Q&A With DroneboyCatching up with one of D&B's big designers
2014-08-15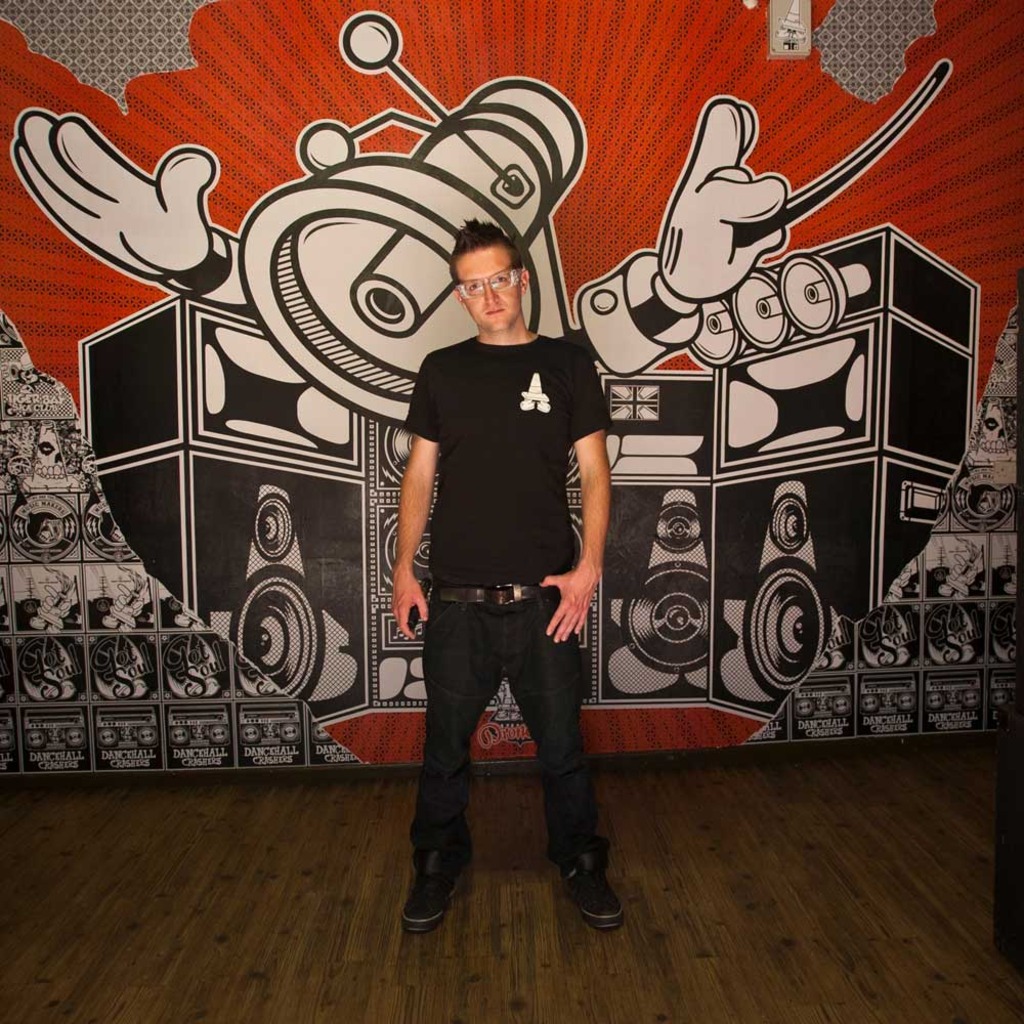 Listen / buy
---
Hi DroneBoy, thanks for speaking to us! We'd love to get to know you a little more, especially as you've just designed our brand new range of t shirts, now available from our shop - https://www.ramrecords.com/merchandise.
First of all, how did the name DroneBoy come about? Where does it originate from?
The name DroneBoy came about as my biggest fear is turning into a human drone, a pointless creature that works a job he hates to pay for a lifestyle that only masks the hate he has for his job. As a promoter you see these people, they exist. My personal fight is to not fall into that category and to spread the word that doesn't have to be the way, hence the word Drone, the boy bit is because i'm still finding my way trying to achieve this, using creativity and arts as your sole income is hard and frustrating but I'm getting there. The logo tries to depict this, a traffic cone is a ubiquitous object, an object of pure function, but this one's different, he's broken the mould and has a soul and legs.
We saw that you're from Wales, a country which is better known for its choirs and mountain valleys than its urban areas. How did you become interested in street wear? Was it born through the internet, or is there a particular scene in Wales which drew you to it?
I grew up a punk kid with DIY ethics, when I was growing up me and High Contrast started putting on nights together hiring sound systems and DJing, we started so we could do pre-bars for the big nights in Cardiff, to get guest list, later it turned into a business with the night Aperture. The same kind of thing happened with the clothing; I always looked to brands like Stussy, Supreme, X-Large, Carhartt, Alife and Fuct but could never afford them, so I started making my own. This year I just got commissioned through Goldie to do a piece for Stussy, it was a dream come true.
You got kicked out of art class, although you've made a pretty successful career within illustration. When did you first know it was your calling? And has art always been one of your passions?
I've always loved creating, my mum was a photographer, so have always been very visually stimulated. When myself and High Contrast started promoting and DJing back in the day, I found that I'd much prefer be on the dance floor than DJ, i'd not play the tunes I liked so Lincoln would drop them and I could hear them on the floor. So to pay my way in our promotion team I took on the role of graphic designer and flyer maker and it just grew from there.
You design a lot of other merchandise too, not just music industry pieces. Does this reflect other parts of your life? For example, having designs decks, are you an avid skateboarder?
Yeah I guess I only really take on projects I know I will love or want to own myself. I grew up skateboarding but never been that good, I just love the people and the attitude. I'm still known to bomb down hills on my skateboard though.
You've worked for Metalheadz, Hospital Records and David Rodigan. Do you listen to a lot of drum & bass? And what other genres of music are you into?
Music is everything to me, its everywhere. I guess that's why I've never got into production myself, because I like something in life to still be magical. I want to let music wash over me and not be hyper critical of it. I genuinely love all genres, I think if you don't like a genre you haven't heard the right track for you. I grew up a mosher/punk, found reggae, found hip hop, found drum and bass and from there got into everything past and present.
You have a very particular style. Are there other artists you took inspiration from?
My style I guess is just a reflection of my ability, I look at other artists and wish I could get the their level. I guess a style is a limitation. My favourite artist mainly were born of street-art Shepard Fairey, Dave Kinsey, Nigo, Benny Gold, Dave Flores, Andre, Insa, Grotesk, Josh Cotterill, Os Gemeos, Tom Winslade, Kaws etc etc.
And lastly, what's next for Droneboy? What other projects do you have coming up?
I'm working with my old friend High Contrast quite a bit at the moment, we're both local so hopefully you'll see some collaborations through that. Always working on my own line DroneBoy www.droneboylaundry.com gonna open some more pop-up shops and really see where life takes me.
Where did your ideas around the RAM concepts originate from? And was RAM a label you've always wanted to work with?
I wanted to get a heritage feel for the brand and drum and bass in general, so I wanted to create the tees that I would have loved to have worn when I first got into drum and bass and RAM records. I wanted the colour palette to represent the nineties and the graphics to have the care free nature that a lot of the labels and design around dance music represented. Ram has been a ever-present soundtrack to me growing up, so to get the call to be involved was a no-brainer, i've always thought that i'd never be good enough to get work out at this level and this year has blown my mind, releasing my own collection alongside releases with Stussy, Metalheadz and yourselves has really surprised me, thank you.
---
Share
---
Listen / buy
---
---
---