Wilkinson 2104 Tour DatesUK, Europe and Beyond!
2014-01-07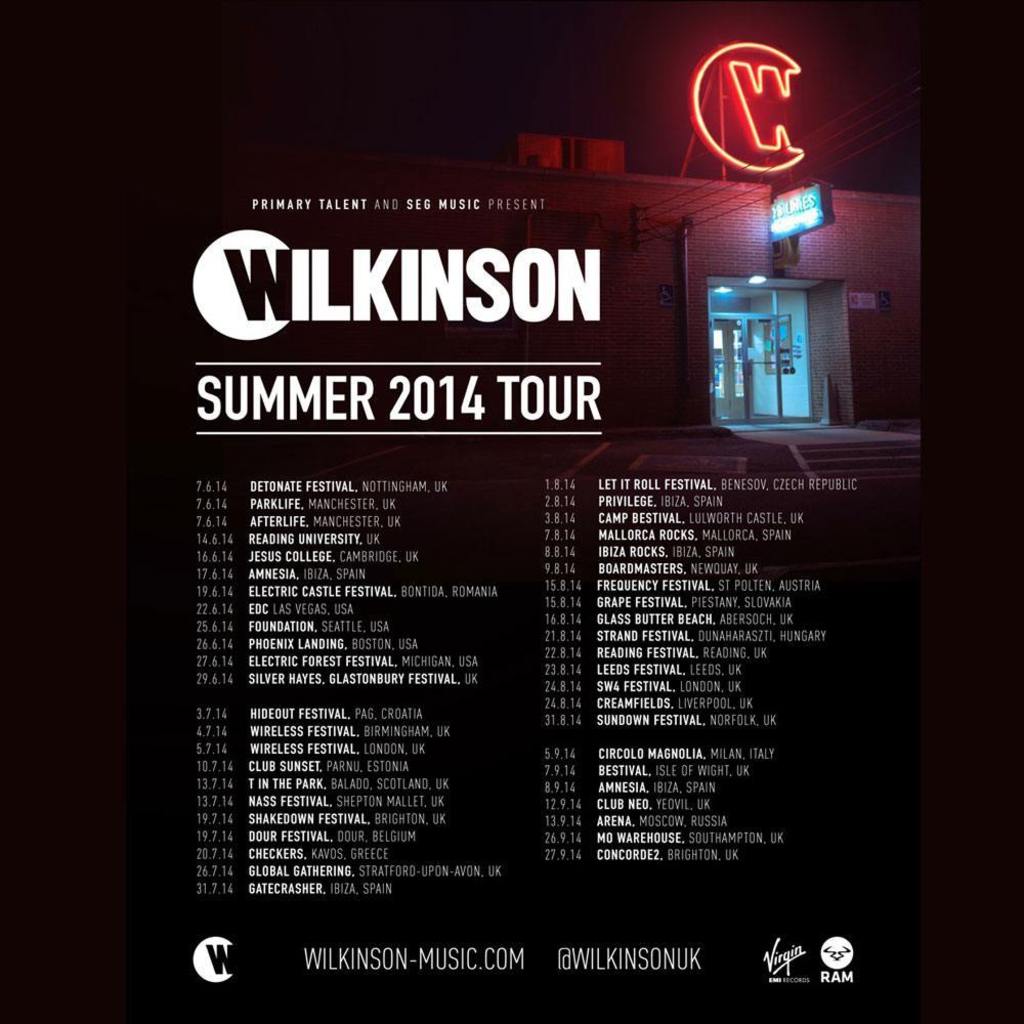 Listen / buy
---
Wilkinson is now embarking on his 2014 tour date schedule, taking place over this summer and set to be his biggest to date.
Featuring a range of festivals hosted across the globe, as well as a number of intimate and large-scale venues, make sure you check out one of the UK's biggest names in D&B. Having already played at world renowned EDC, he's an act not to miss this year.
'Too Close' ft. Detour City was Wilkinson's first record of this year, which racked up over one million views on line. This was followed on by 'Half Light' and its video accompaniment, a track which catapulted itself into the UK's top 40 singles chart.
2014 Summer Tour Dates
Thursday 3rd July – Hideout, CroatiaFriday 4th July – Wireless Birmingham, United KingdomSaturday 5th July – Wireless, London, United KingdomThursday 10th July – Beach Grind Parnu, EstoniaSunday 13th July – Nass Festival Bath, United KingdomSunday 13th July – T In The Park Balado, United KingdomThursday 17th July – Plaine De La Machine A Feu Dour, BelgiumSaturday 19th July – Shakedown Festival Brighton, United KingdomSaturday 19th July – Dour Festival, BelgiumSunday 20th July – Electric Boogaloo Lefkimmaioi, GreeceSaturday 26th July – Global Gathering Stratford Upon Avon, United KingdomThursday 31st July – Gatecrasher Ibiza, SpainFriday 1st August – Let it Roll Benesov, Czech Republic Saturday 2nd August – Privilege Ibiza, Spain Sunday 3rd August – Camp Bestival Dorset, United KingdomThursday 7th August – Mallorca Rocks Baleares, SpainFriday 8th August – Ibiza Rocks Ibiza, SpainSaturday 9th August – Boardmaster Newquay, United KingdomFriday 15th August – Frequency Festival Sankt Polten, AustriaFridat 15th August – Grape Festival Piestany, Slvakia (Slovak Republic)Saturday 16th August – Glass Butter Beach Abersoch, United KingdomThursday 21st August – Strand Festival Dunaharaszti, HungaryFriday 22nd August – Reading Festival, United KingdomSaturday 23rd August – Leeds Festival, United KingdomSunday 24th August – Creamfields, Cheshire, United KingdomSunday 24th August – SW4 London, United KingdomFriday 29th August – Norfolk Showground Norwich, United KingdomSaturday 30th August – Fusion Festival Birmingham, United KingdomSunday 31st August – Sundown Festival Norfolk, United KingdomFriday 5th September – Circolo Magnolia Milan, ItalyTuesday 9th September – Amnesia, La Eliana, Spain
---
Share
---
Listen / buy
---
---
---
Related Artists
---