DC Breaks Drop Their Own VST: HaloA new VST has dropped from DC Breaks!
2021-07-06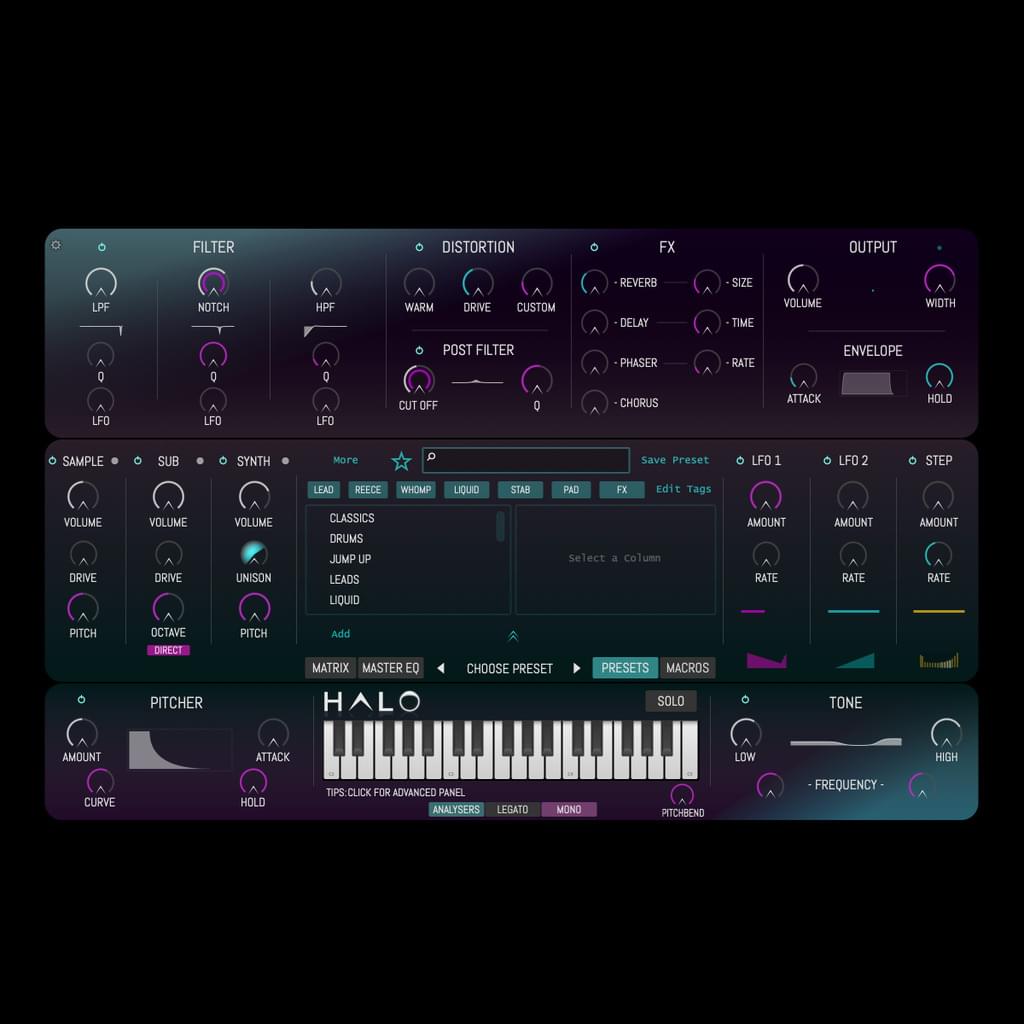 Listen / buy
RAM Shop
---
A new breed of instrument, DC Breaks have dropped their very own VST: HALO.
With a visual and creative workflow, HALO combines meticulously crafted re-sampled audio with a host of synth layers, processing and FX options to make huge sounding basses, leads, pads and more. The immense presets will either slot straight into your projects or serve as an inspirational start point, but delve deeper into the extensive filter, FX and modulation options to make whole new sounds with just a few clicks. Unlike many Romplers, HALO also allows you to add your own custom audio with infinite sound design possibilities.
Ranging from huge reeces to lush liquid pads, HALO features over 300 meticulously crafted presets, with a range of expansions yet to come. Each preset has been painstakingly sculpted using a range of hardware and software synthesisers, FX and processing, and then layered with HALO's inbuilt synthesisers, pristine FX and unique modulators, in order to create complex, raw, quality, playable yet malleable sounds across a vast sonic palette.
HALO contains several pre and post distortion filters, enabling a multitude of combinations and sonic sculpting possibilities. With three dedicated Filter LFOs, two routable and customisable LFOs and a Stepper, Halo is capable of fusing together multiple and interesting modulations. Randomly generate new LFO shapes at the click of a button and switch between Envelope and Loop modes, or load pre-saved shapes from a dedicated LFO preset menu.
HALO has 3 different distortion modes including a powerful custom Waveshaper to cover all your distortion needs, where you can further shape or completely mangle your sounds, as well as generate unique wave shapes, and the ability to load and save shapes in a dedicated preset browser. Halo also has easy to use, quality built-in FX covering Reverb, Delay, Phaser and Chorus, with numerous fine-tuning options
HALO's unique sample functionality includes the ability to switch between, and even randomly select, over 300 sample maps within a preset, providing users with countless sonic possibilities. Once you've set up modulations you like you can easily swap out the sample for another preset or a random sample. The Custom Sample function allows users to load in their own audio files into the sample engine, and use Halo's modulation, FX and synths to mangle up your own sounds.
HALO FX is the fx-only version of the plugin. Access all the Filters, Distortions, FX and EQ sections of HALO as an insertable effect in your DAW. Filter LFOs are available as well as the Waveshaper in the Custom Distortion.
HALO is available in 'Full' and 'Lite' editions
Full edition contains 300+ presets and sample maps and the HALO FX plugin
The lite edition contains 100 presets and 90 sample maps
AU / VST3 64 bit only
Current version 1.0.0
Min spec: 2GB RAM, 5GB HDD space (2GB for Halo Lite)
Windows 7 or later, OSX 7 and later
---
Share
---
Listen / buy
RAM Shop
---
---
---
Related Artists
---