The Interview: KillboxWe caught up with Killbox on the release of their sophomore Ram LP!
2021-05-21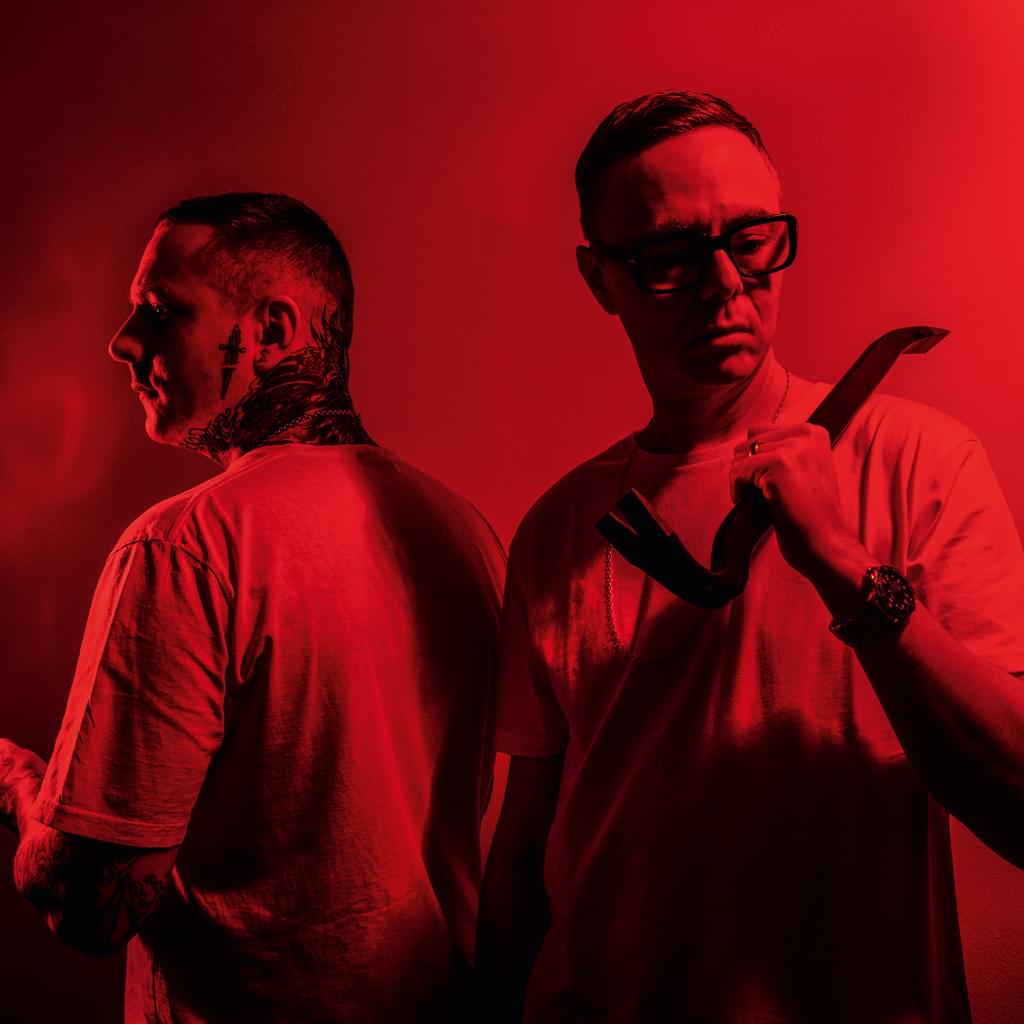 Listen / buy
RAM Shop
---
Killbox: Divine Profits presented a fantastic opportunity to move away from the status quo within drum & bass
By Jack Wynne
Ever since the news emerged detailing who the magical duo were behind the bone-shattering sounds of Killbox it seemed like there was an overwhelming amount of anticipation for their first album "Pleasure Palace".
Now a little under three years later Ed Rush and Audio are set to unleash their second LP "Divine Profits" and they hope it won't be too long before fans can start to experience it in the clubs.
Creating music during lockdown has been a hugely abnormal experience for a lot of musicians but Killbox have refused to hold a negative lens up to the process and have used the time to push the boundaries creatively.
The pair sat down with RAM Records to discuss the record in more depth and also how the pandemic has made them sit up and take note of how busy their lives are.
Looking back at the last 12 months would you say you've been relieved at the time to recharge your batteries and take a step back from the touring schedule or did it hit you like a steam train at the start?
Audio: I think we were all sort of expecting it to blow over after a few weeks. There was the initial feeling that it'd be fine and then the sudden realization that it wasn't going anywhere. I'll be honest with you it's probably been one of the best years I've had in a long time. I've sorted a lot of things out with my personal life and my health. It's quite isolating when you're a DJ and it's that life of just working at the weekend because you're in a completely different time zone.
My wife works during the week whilst the kids are at school and I'm at home doing nothing. Then they're at home and I'm gone on Friday and back Sunday. I sit in the studio all day on my own and I would sit there listening to podcasts just so I could listen to another voice while I'm working on tunes. The more I've spoken to other producers the more I've realized that's quite a common thing.
You spend a lot of time on your jack not talking to anyone either in a hotel room on your own or in a club because you're sitting there and you don't know anyone. I felt like I reconnected with the world. I've got back onto the tools doing what I used to do. My mental state feels better than it's been for years. Where people have had a really bad time this year I'll be honest it's been great. I've got a solo album ready to go. I've been more creative with drum & bass stuff for a while because I've not had the pressure of touring.
When I go in the studio I don't feel as though every tune needs to be one that is going to get a rewind or is going to smash the place up. If you get known for doing that then there's a certain amount of pressure that if you put a tune out it's got to be ridiculous.
I'm 42 so I don't want to do that all the time. I want to make music. Ben has flipped to something else and it's refreshing and good for the soul. I definitely won't be going back to how it was before. I won't be on the road as much as I was before because it's bad for you. The priority now is my family and being around them.
Ed Rush: From all the people I've spoken to it's been very polarising. There's no one you talk to that says it's been alright. It's either been a disastrous shit show where you've lost your family or your mental health and your house or it's been wonderful and people have reconnected with themselves. I think it's great because a lot of people have had the chance to chill out and step back and realize what is important to them, what's important in their lives and given them a chance to realign their focus. Everyone can find some positivity out of the shit show.
I think it's also important to recognize that people can get a misconception of the lifestyle of a DJ and producer through the lens of social media.
Ed Rush: It's easy for people not to see the negatives like the lack of sleep and running around airports. When you are in the club and you're having drinks and doing your thing it's a great time. People want to be around you and talk to you. You're made to feel like you're contributing to people's experience and contributing to people having a good weekend. It gives you purpose. For that to be stripped has been hard to deal with.
I've been doing it for 25 years now so when it suddenly gets pulled away from you I think you've got to be quite strong mentally to deal with that and for it not to affect you. I think you'd have to be emotionless. There are flip sides to it. Yes it's annoying and it can be destructive to your family dynamic but there are positives.
Audio: That hour-and-a-half you're in front of the decks is the best bit of it. You've just literally come from another country, straight to the club, then onto the airport from the club. You sleep for an hour-and-a-half on the plane, then sleep in a basic hotel in the back end of Russia somewhere. It's nice to be in the position we're in but there are some rubbish bits to it which are travelling and being away from home.
It's refreshing to hear that there's always room for improvement even when you've been doing this job for so long.
Audio: We get sent music from 19-year-old kids which is jaw-dropping. For me musically I still feel like I have a lot to give so I always want to be considered relevant. It's essential that we're up-to-date with trends, not necessarily following trends. Like everything in this world everything is moving at 5000 miles an hour. You take your finger off the accelerator for a moment and you can get left behind.
Ed Rush: Growing up with the drum & bass from the 90s which was the stuff I and Gareth started out making it was all heavily breakbeat-orientated. We were literally taking funk breaks, speeding them up and then using samplers to chop them into pieces.It was all focused around breakbeats.
Over the last five years everyone has been turning towards synthesized drums and making them sound more precise and technical. It's starting to sound a bit boring and a bit dated now with these perfect synthesized drums. It feels a bit sterile and vibeless. Yes it's great, smacks in the club and the frequencies are all true but it kind of lacks the human element.
It's nice to start hearing people using breakbeats again. This is what I've been toying with over the last few months. A lot of the crusty old breaks sound rubbish. When you turn them up really loud they just sound even worse so I'm just trying to learn techniques to make them relevant so they sound good now.
There's a lot of stuff out there on production and how to get these techniques but you can't teach people how to make vibes. That's something which comes with experience and just hours in the studio.
After listening to the record there are some heavy tunes on there and definitely some which I'm longing to hear in a club setting.
Audio: We're quite lucky in the fact that we got to test 90% of the album in the clubs before but I've sort of forgotten what they sound like. I've forgotten what music sounds like on a big system and that feeling of bass rattling through your body.
Ed Rush: The first time I get back on the decks I'm going to be so rusty. It's literally been a year. It's mad.
Audio: The last time I had a mix was September.
Have you got particular shows in the diary which you're really looking forward to.
Ed Rush: There's a couple of dates starting to creep in. I've got something in Brighton in June and then a couple in July, one in Leicester and another in London. Bookings are starting to come in and promoters are starting to become a little more confident and hoping that we're not going to go back into lockdown again.
Audio: I'm not going to restart until everything is back to normal. I don't want to mess around and jump through hoops. Let it Roll is in August and Hospitality Weekend in the Woods is in September. I'm good until the back end of this year. I'm going to ease myself back into things and if it doesn't feel right then I'll just ease myself back out of it.
I'm in a position where I don't need to go back to it so if I feel as though it's not good for my health mentally or physically there's no pressure there. Before all my bills were dependent on this and now I'm doing it with other things. We've spent so many years doing the little shows which are not that organized.
I think "Rodan" is the one I'd most like to hear in a club setting.
Ed Rush: A lot of people have said that. Stylistically it seems to just fit in with the current movement, especially in the UK. It's a shame we can't be standing in clubs with it rattling our rib cages hopefully it won't be too long. I remember the first time it was played at the Virus party. It was 4:30 or 5:00 in the morning, they'd been battered all night. Sweat was dripping off the walls and then you [Audio] dropped Rodan right from the vocal.
Audio: All I remember was listening to the tune and thinking I don't have to touch the mixdown it sounds great. I think it got a couple of rewinds.
It's a good sign when a tune is being rewound that many times in one show.
Ed Rush: It's such a nice feeling when you've played four or five other people's tunes in a row and then you draw your one and it gets the rewind. It was a bit of an ego boost.
Audio: It's also a confirmation thing as well because in your opinion you could've perhaps played four tunes that might be mixed better in your opinion. You can tell a vibe in a tune a million miles away. That's evidence that it can stand head and shoulders above other records.
Have you guys not considered going down to New Zealand to play some shows?
Ed Rush: The agency asked if I would be prepared to do it. I said I would definitely consider it but it entails quite a lot. You've got to quarantine for two weeks when you get there so if you're doing two weekends worth of shows it means being away from home for at least a month. That sounds a bit daunting to me. If the money was good I'd have to do it. It's the whole idea of being in a quarantine hotel for two weeks which would put me off. Jakes said it was a nightmare. He commended anyone else who has done it. He said he was grateful to be there but he would not do that again.
I think it's quite barbaric what you have to go through. The military turns up and you have to wear a tag. You're only allowed out for an hour's fresh air a day. I think it's a bit like being in prison so it doesn't sound like a lot of fun. That flight in itself is absolutely horrific.
I've seen some of the social media posts from the artists that have been out there and they look amazing. The shows look absolutely incredible. I was definitely envious of that side of it for sure. Also it's just such a beautiful country. To go there and do some nice shows would be cool but the whole flight and quarantine thing just doesn't sound great.
Audio: I think I'm good. I think I'll wait until it's all sorted and then I'll go over there. The last time we went there it was for NYE. We went to Australia and New Zealand and then flew home. We were back in four days. I don't have great memories. The hangover in Perth on NYD was brutal.
I can see why you might be discouraged from going over there to play.
Ed Rush: This is why they're ok and this is why they can have parties with 10,000 kids because they are on it.
I think with everyone spending a lot more time at home we've all become a lot closer to our families and if you were to be away for a month you would suffer with separation anxiety. You would end up missing your wife and kids terribly I think whereas before you would only be away for a couple of nights and you don't really think about it. Although I'm sure my wife would be quite glad to see the back of me for a month.
Audio: If I was a single man with no responsibilities I'd be on the next plane. It's just the thought of being away from the family for a month. Priorities change and they become different.
---
Share
---
Listen / buy
RAM Shop
---
---
---
Related Artists
---