The Interview: AyebaitariWe catch up with Ayebaitari following her RamLive debut!
2021-02-22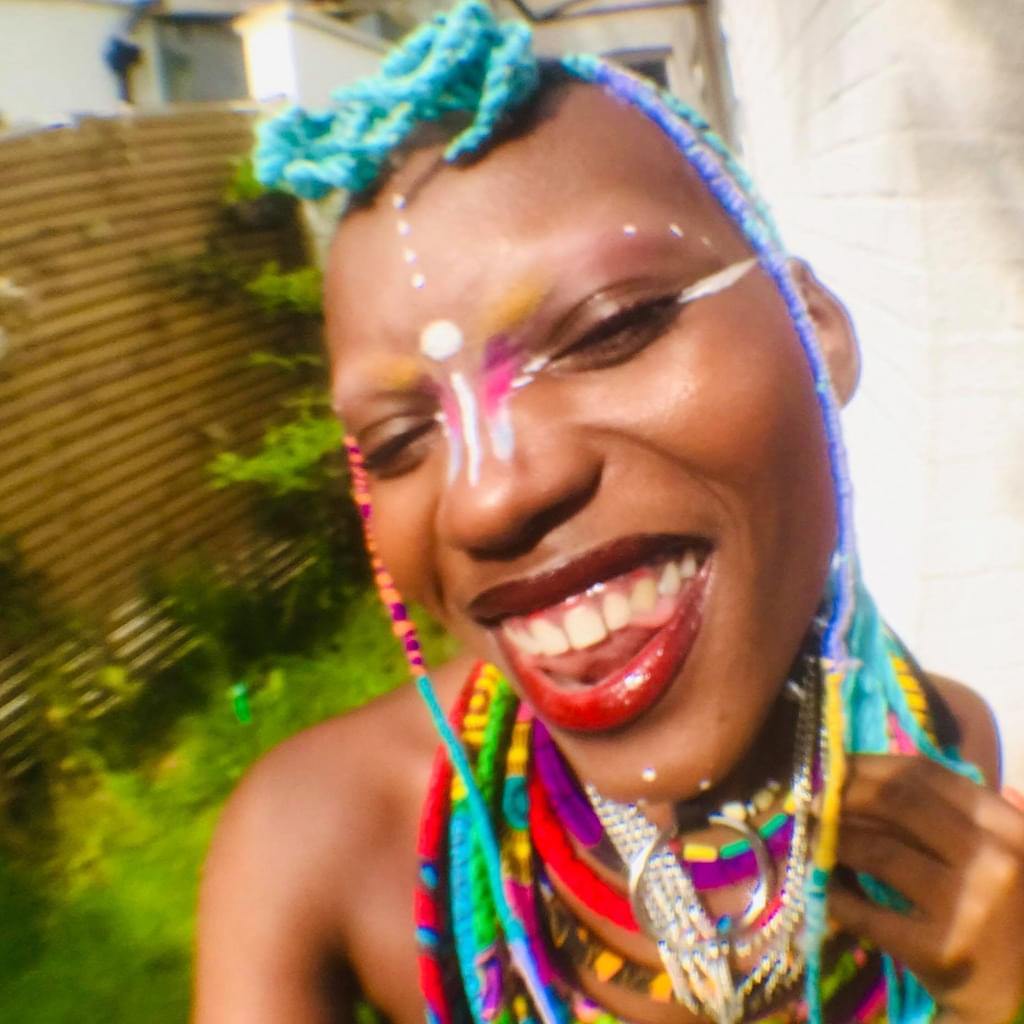 Listen / buy
---
Following her immersive visual and audio RamLive debut in the latter part of 2020, we caught up with Ayebaitari about how she tailored her DJ set and its video art, alongside an array of influences and inspirations. Taking you through a journey with her mix, one which highlights the tracks which ignited the avid Jungle DJ's passion over the years, she also pays homage to the artists and club nights underpinning her love for the music. With more in store for 2021, including expansive plans for her Queer Rave platform/community, we dive deep into the world of Xilhu Ayebaitari Ese and her story so far.
Hey! Thanks for joining us for your RamLive debut. Can you tell us a little about your selection, maybe give us a rundown of the tracks you played which stand out the most to you personally and what they mean to you?
Hey! You're so welcome! Thanks for having me. All the tracks I selected for the mix are 90s old skool jungle/ dnb and Asian Underground tracks, as that is the style of drum and bass that speaks to me the most. My sets always aim to capture the height of the 90s rave era and include atmospheric and spiritual sounds from Indian classical instruments merged with Amen Breaks/ Breakbeats. I feel that Asian Underground isn't given enough recognition for its massive contribution to drum and bass, so my selections aim to recapture the mood and times of the Anokha Nights run by Talvin Singh, Sweety Kapoor, with music producer/DJ State of Bengal a.k.a. Zam Zaman at the Blue Note where there was an amazing celebration of sounds, culture and musical innovation; the divinity of raving was so heightened and accelerated, and my set definitely tries to encapsulate that vibe.
I feel each of these tracks really innovated the Drum and Bass sound in their own special way:

Carla's Dream - Future Loop Foundation

Butterfly - Talvin Singh (Bass Flo Remix)

Inesse - DJ Mayhem

E.S.Y. (Spring Heel Jack Mix) - Joi

Kemistry V.I.P Mix - Goldie

Sands of Time (Original Mix) - Oblivion

Shadow Boxing - Nasty Habits
I love the depth of feeling that these tracks induce within me, they are such special tunes and take me to a completely different world- and of course each have some of the darkest, fattest, nastiest basslines I have ever heard!! You've got the Asian Underground with 'Butterfly- Talvin Singh (Bass Flo Remix)' and 'E.S.Y. (Spring Heel Jack Mix)- Joi' which are such unique and special tracks in and of themselves. And of course, the track 'Kemistry V.I.P Mix- Goldie' being dedicated to DJ Kemistry - my biggest influence in music and DJing.

Can you also tell us about the visual aspects to your set – you created your own video art for the backdrop, is there a way you channelled this process through the music you played? And how did you first get involved with this art form, is there something which drew you to it in particular?
I made the visuals for the set using an analogue video synthesiser. I've always been obsessed with analogue tech, and collect 20–30-year-old vintage camcorders because I just find it interesting to recapture our current times using dated technology. It always makes me question the concept of time and appreciate technology a lot more in how far it has come. My camera collecting eventually evolved into just wanting to create and innovate more while using analogue equipment, and finding this video synthesiser was great in helping me develop my craft with video art. For me, art, visuals and music are all intertwined and interconnected; I don't see much separation with these forms of art, so my artwork inevitably merges these art forms altogether.

Which figures have been instrumental to your journey as a DJ, and where did this journey begin? How can you hear their influence in your sets?
I feel I have always been DJing and playing music from a very young age; I got my first USB when I was about 12 and I was so gassed! I loved the process of digitally downloading music from young, and it's beautiful to see how that journey has evolved into DJing for a living. The first time I discovered DJ Kemistry I just got chills all over my body - it was just like everything made sense all of a sudden. Knowing that she is from a Nigerian background like me and seeing all the work she has done and contributed to the growth of the Drum and Bass scene and music industry in her life is just so inspiring and incredible to me. Kemistry and Storm are definitely my biggest influences for DJing, the love they have for each other and the music was so pure, and I can feel it in each and every mix they have ever created. Hearing their DJ Kicks mix album for the first time was spellbinding. The first time I met DJ Storm at Return to Rage @ Heaven, I was in tears!! The energy and love she has to still be continuing her love for DJing despite Kemistry's passing is so intense; I can feel the love so strongly and that love is definitely what I try my best to translate and emulate through my sets and my existence as an artist. Every time I've met her at a rave I have always hugged her and thanked her for her contribution to Drum and Bass. She is a major, major inspiration for me, and I aim to be DJing forever just as she does!
Of course, Talvin Singh is a massive influence for me too and that can be heard through my Asian Underground selections. Jordana LeSesne, formerly known as 1.8.7 is an American DnB producer who is also a black transgender woman. Need I say more about her? Absolute trailblazer!! Check out her track 'We Are Not Alone' - MASSIVE!! Definitely DJ Flight and MC Chickaboo, watching them DJ and perform has been hugely inspirational for me. Also, Francesco Cucchi of Blu Ritual and DJ Tess have been quite key in guiding me on the practical beginning stages of DJing, they are both amazing producers and DJs, and I actually filmed the set at their house, so shout out to them for always being supportive on my journey, big love!! Also, Sheba Q and No Nation are AMAZING vinyl Jungle and DnB DJs who continue to inspire me with their incredible DJing technique and positive vibes.

You've recently set up the Queer Rave platform/community – can you tell us more about the ethos behind this community and what spurred you into its creation?
Queer Rave is an event, platform/community, and a beautiful solution to the lack of representation of queer, female, non-binary, trans, and genderqueer (Drum and Bass) DJs, giving us our own personally tailored and curated platform. Our events are a safe space for self-expression, ecstatic dance and raving as a way to celebrate our lives. Queer Rave is creating a culture of acceptance, love, music, creativity, freedom and safe spaces as a normality within the music/club industry in London, as well as fun, uplifting, creative and unique experiences for the youths of our community. Queer Rave seeks to inspire change in the arts and music world, bringing more diversity and a new, fresh perspective to the concept of creativity and art, merged with raving and night life. So far, we have received 1k in funding by AZ Mag Creative Fund x DJ Mag, and we will be producing and creating live-streaming content and art with the funding received.
Creating Queer Rave was a great way for me to give back to my community and encourage QTIBPOC to continue being who they are and expressing themselves the way they want to, in the spaces that are safe and appreciative of us, with freedom, fun and liberation. I can't wait to see this community grow and watch Queer club culture in London evolve and expand with us!

We'd love to know about your most memorable club nights - what stuck out to you most about these raves? And can you remember the first time you heard drum & bass - what was it that caught your attention?
One of my most memorable raves would have to be Channel One Sound System; it was the conception of my deep love for Sound System culture and raving. The freedom, unity and spirituality of Rastafarianism also really speaks to me and I love what Channel One's events symbolise. I just love getting lost in the bass of that Sound System!! It really started my love for bass music and the basis of what Queer Rave stands for, which is inclusion, peace, love, and acceptance. Also, Return to Rage at Heaven was incredible and nostalgic, it was great to see all the DJs who started there come back and play amazing iconic Rage, Acid House, Breaks, Early Jungle and DnB tunes. I saw Ray Keith, Fabio and Grooverider, The Ragga Twins and of course DJ Storm who I shared a beautiful hug with! I will never forget that event! <3
What other genres do you find yourself moving to?
I love all kinds of music, specifically anything with a heavy bass and spanning from 70s-90s era. Reggae Dub, Indian Classical, Asian Underground, Habibi Funk/Zaman, (Brazilian) MPB, Somalian & Ethiopian Funk, Afro Psychedelia, 80s Alternative/ EBM, Old Skool Hip Hop, also anything Experimental, Psychedelic or Alternative like music from Witch, Itadi, Blu Ritual, Aisha Devi, The Lijadu Sisters, Cocteau Twins, Arca or Bjork.
Thanks for speaking to us! What are your next steps for 2021 and beyond?
Thank you! I am currently still developing the growth of the Queer Rave community/platform, creating lots of visual art, performance art, starting my journey with music production, collaborating, and creating with many other amazing artists and musicians, continuing to teach and mentor DJs @ Queer Rave, and of course RAVING!! The live streaming launch of Queer Rave with DJ Mag x AZ Mag is set to begin sometime in May, and Queer Rave will also be having its own radio show slot on Threads Radio starting in March; there's lots more radio shows and takeovers Queer Rave will be having with other platforms, so stay tuned for all of it! And of course, when the world opens up, Queer Rave events will explode, and I will be DJing at a lot more raves and festivals internationally - I'm so excited!! It's going to be so much fun!! Stay tuned for more raving, creativity and transcendent art @Ayebaitari__ and @Queer.Rave
Peace love and unity <3
---
Share
---
Listen / buy
---
---
---