The Interview: MandidextrousFrom Jungletek to Drum & Bass, we catch up with another of our EQ50 Mentees...
2021-01-29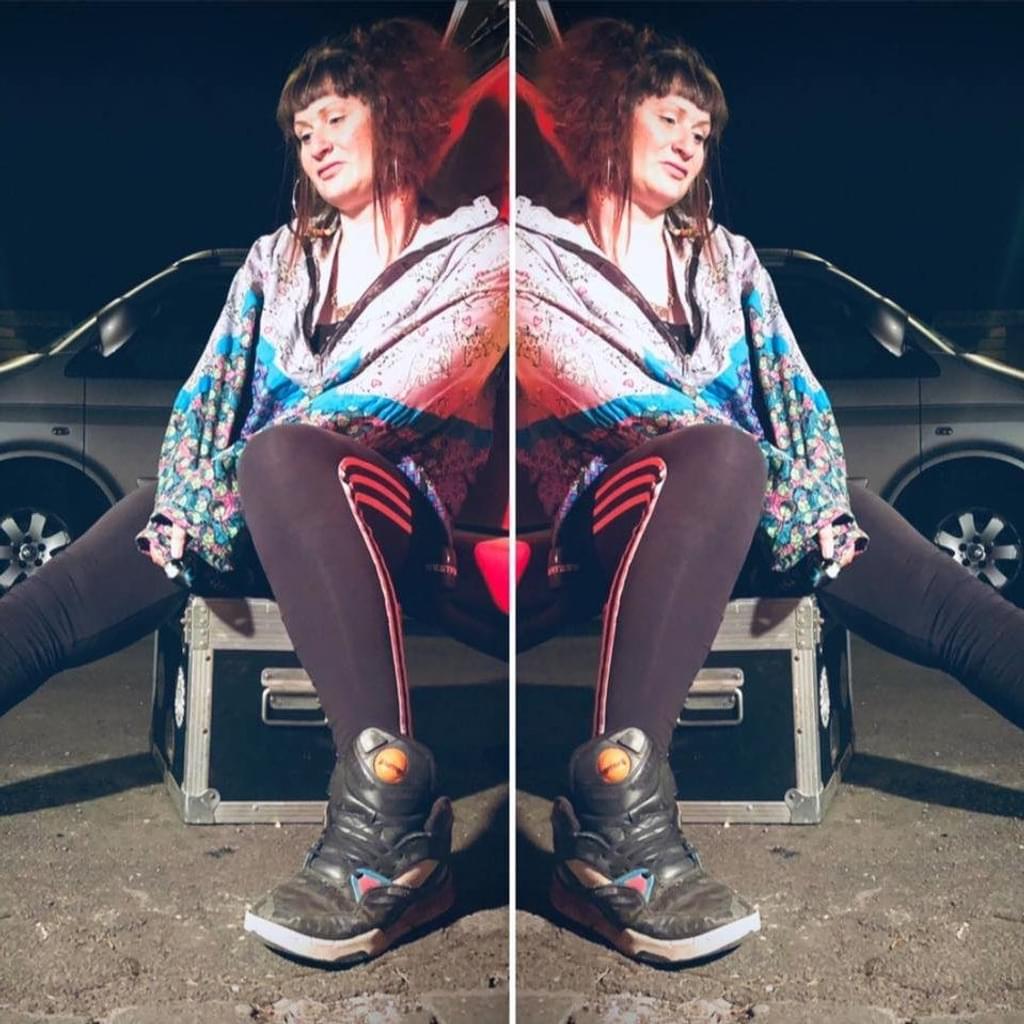 Listen / buy
---
Many ravers will know the name Mandidextrous due to their high energy tracks which stretch across a range of dance music genres, including the recent 'Don Dada' with MC GQ. Their notoriety on the DJing circuit is also why they're a staple of many club nights and now Mandidextrous has joined the ranks of Ram as part of EQ50's mentorship scheme. We caught up with the DJ and producer who told us all about their background, in how they became involved with spearheading a variety of styles and what's led them to this moment.
Can you tell us your background in music production and what started your journey?
I started to teach myself how to produce music all the way back in 2008 (ish). I've learnt everything myself. I never went to a music production school or anything and I was flying completely solo, I started with Reason 3.0 then went on to Ableton Live. This musical journey came about after years of DJing on the illegal rave scene as a D&B and Techno DJ. What started that journey was my absolute obsession with the two genres and not being able to find the music I wanted to hear anywhere! I hungered for D&B that was a perfect blend between D&B and Techno, but it didn't exist (well there were bits here and there).
I wanted to hear all my favourite D&B tracks with a proper 4 to the floor switch up, so that's what I set out to do but as the years have gone on that has also evolved somewhat.
You make an eclectic mix of genres – is there anything you feel most drawn to? And do you decide on the genre depending on your mood, or is it more about what you're currently listening to?
To be honest it's still the same as it's always been with me, I'm tied in the middle like I am with my gender! I love D&B just as much as Techno so it's really difficult to say one or the other. I do also have a lot of time for mostly all forms of electronic music apart from electro. I'm not a big fan of that sound but that's not to say there's probably bits of it that I would like. There's good in all genres, that's what I say. When it comes to what music I decide to make its often down to what I have been listening to, sometimes I will be having an 80's day where all I do is listen to 80's bangers or some days I will be listening to Hip Hop and something will jump out at me. It's strange where my inspirations come from. Sometimes it's even memories of my early rave days like being off my head at an old multi rig on the ridgeway drifting between different rigs, drowned in soundclash chaos drinking rum with my raving crew. Oi oi! That's what I love about making music. It's always just a reflection of what ticks through our crazy brains on a daily basis.
Where do you most get inspiration from, especially since Covid happened and there's been a lack of live events?
Yeah this Covid thing and no gigs has been a BIG one for me but I hope for not much longer. Most of my musical inspiration comes from DJing out every weekend in clubs and festivals. Aside from musical influences, it's the dance floor that really drives me. Seeing crowds of people react to my tracks literally drives me musically so much. I think I literally write music constantly as a way to fill or change my sets as it's very rare that a Mandidextrous set will contain any tracks that I haven't written myself. Covid hitting us globally has been mad! For myself, and I can only assume many other artists, losing touring dates has really hit hard. Last year I felt extremely lost musically but I have been trying to stay calm and just carry on being expressive in the studio as much as possible. For some people having all this time off has been a benefit but for others a burden and for me it's definitely been a burden! I just bloody love the RAVE too much, I guess.
You've recently dropped some teasers for 'Techno on My Mind' with DJ Bish – how did this track come about and how did you and DJ Bish link up? Can you also tell us about your current plans for the next twelve months musically?
Oh my! Techno On My Mind what a TUUUUUUNE ! So Bish is an extremely talented DJ and producer from here in Bristol. I have been so blown away over the years watching him come through the ranks as an artist. Bish has always shown a massive support for the music I make, and the crossover sounds in general. Bish is an absolute machine behind the decks and really goes to town in his sets which from time to time involve some of my music which is an absolute honour especially getting to play a B2B with him at Bristol's prestigious D&B event Bristek where we have both been playing for many years (Big Up Fash). I found Bish up at Headroom studios here in Bristol on a rinse out set for a live stream. When I walked in, I heard him dropping 'Look At Me Go' by Netsky Ft. Darren Styles which I hadn't heard up until that point but it has been an absolute eye opener to hear it drop on Hospital Records. Bish then came to me with a vocal hook "I got Techno on my mind and I can't stop" - as soon as I heard it, it got me going so we got in the studio and I opened ableton and we wrote the track together. it just rolled out so easily and in my experience the tracks that write themselves are often the smashers.
For me and my musical plans going forward I am working as hard as I can to further my knowledge in music production, as always, but my desire to get better at writing D&B is currently at the forefront of my musical escapades. I guess some would say I pioneered certain genres along the way such as Jungletek and Raggatek plus much more recently my Speedbass project which I am not going to stop making, but I also want to mould my sound further to incorporate decent modern D&B with the 4x4 influences where I can, but in a way that's more palatable to a D&B crowd. A major benefactor in that migration for me would be slowing things down a bit to a straight D&B speed as some of my Jungletek tracks ramp up to a very pacey 190bpm which I feel is maybe a bit too intense for the D&B gun finga ravers, oi oi!!! But I am feeling that change whole heartedly plus I am getting old!
You're based in Bristol, a place which is renowned for its music – how do you think this has impacted your sound?
YES, I LOVE BRISTOL! The reason I moved here from Buckinghamshire was due to playing so many Bristol gigs and the people and the scene just seemed to have a place for me, which was a blessing. Bristol's underground scene has always had a very strong D&B and Techno sound to it, even before I started producing, I'd come here for Soundsystem nights from various South West crews such as the DMT Hard Sessions where I'd often hear my now good friend Si Vandal smashing out the Raggatek as well as people like DJ Producer and Hellfish dropping big Gabber bombs. All that alongside the sick Jungle and D&B scene just felt like music to my ears and offered me so much musically that it became very obvious where my heart belonged. I am proud as fuck to live and work here as part of the vast Bristol underground movement amongst some absolute legends! Too many to mention but nod's to Born on Road, Shosh 24hr Garage girls (who I've lived with for 6 years) D/S/C crew Life 4 Land, Rumble in the Jungle, Bristek and my Brother DJ Stivs to name but a few.
What drove you to apply for the EQ50 mentorship? And what would you say to anyone looking to follow the same path, do you have any tips you could offer to future mentees?
So, for me after so many years smashing the UK and European Hardtek scene where my music seemed to take a place, I wanted to pursue the passion for D&B that has been with me since I first bought a set of decks circa 1998.Having reached a big milestone in the European Hardtek scene, my sound has always struggled in a way. It's too fast and too Techno for the UK but too D&B orientated for the European Hardtek scene. I've felt stuck and to be honest I had started to lose some confidence as I have always had a HUGE desire to be a much bigger artist than I am. Also being Transgender as well as non-binary, fighting for equality and being open about my gender has been hard I'm not going to lie, as people still don't seem to understand me or people in our situation. I felt what the EQ50 gang stands for and what they are doing in the industry was totally eye opening and extremely exciting. It's been an opportunity to work with some very talented people who represent equality for womxn and LGBTQI people in D&B and so far, it's been bloody wicked. This whole project has breathed new life into me as an artist and started to open some doors I could only have ever dreamed about which I am forever eternally grateful for.
The advice I could give to anyone wanting to do the same is advice I have been given myself from the very amazing Sweetpea and that is to "do what you do", don't be a sheep and follow the herd as what any genre needs is people to push boundaries by doing exactly what you do in the way you do it. Also entering into any mentorship is an amazing benefit as you suddenly have someone backing you which for me, I have always felt I lacked when it comes to what I want to achieve in the D&B scene. I've been extremely lucky, and I have had an amazing career and I hope it continues especially with EQ50.
---
Share
---
Listen / buy
---
---
---