SKMA & Marx InterviewFollowing their latest release on Program!
2018-04-12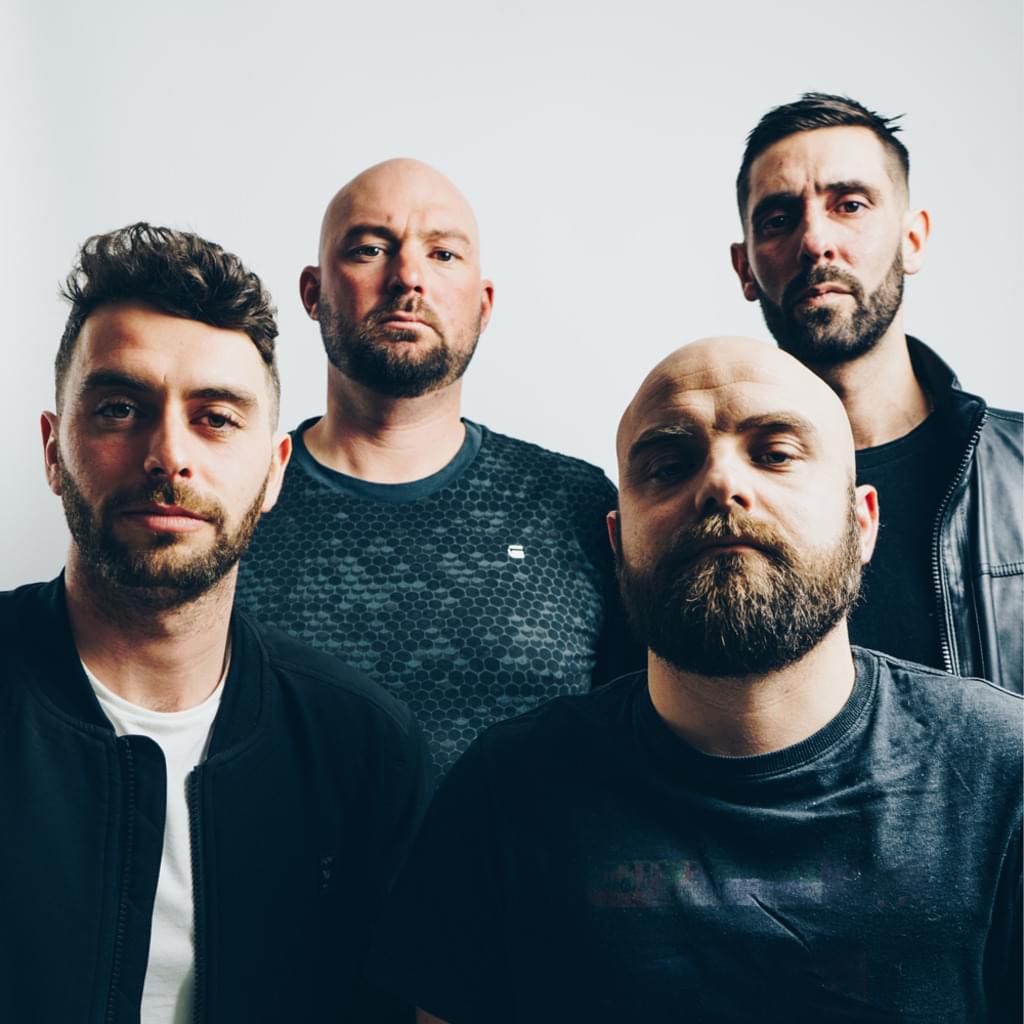 Listen / buy
---
Getting 4 guys together to produce one EP may not be the easiest thing to do, so we've asked Lee, Mark, Sean & Sam how it's done...
Gents! Great to have you. Still all hyped up after the release? How's the response from fans been?
Marx: Thanks for having us! Very much so, super hyped to have the support and warm response we have had so far from both the label and the fans!
Lee SKMA: Thanks for giving us the chance to chat! Yeah, still really stoked after the release, the support we've received has been very humbling!
Mark SKMA: It's been unreal, fantastic to receive support from all over!
Looking at the names of the tracks - 'Dooms Day' and 'Breath' – they both evoke a secretive atmosphere giving you a feeling like there's a story behind it all. So... is there one?
Marx: Haha! For Dooms Day, as a big fan of Nikola Tesla and his work, we became inspired by one of his quotes elaborating on the merciless law of nature and that as a race we must adapt or face the consequences i.e. DOOM. The origin of Breath came about after dusting off a shelved track and revisiting it with a fresh angle and new production techniques, breathing new life into the composition, hence the name Breath.
Mark SKMA: Also, I'd just got a new vocal rompler that had a cool 'Breath' sample, ha!
Lee SKMA: Exactly what Marx said! I'm either in the studio or watching documentaries… can't get enough of either!
I am sure many fans are wondering how does a typical studio session look like when there is 4 of you. Would you be all physically present or do you exchange ideas online until everybody's satisfied?
Marx: A mixture of writing independently and bringing ideas to each other's studio. For example; I've composed Dooms Day in my home studio and took the project around to Lee's studio to fill out. This gives the opportunity to maximise workflow, bouncing ideas around in person and becoming inspired from one another.
I find with swapping projects online you can miss the magic of working together and being present. On the flip, Lee will be badgering away straight after work (as the lucky devil finishes earlier.) As soon as I finish, I'll head round and be instantly inspired by his creations, adding my style and subtle intricacies. It becomes a battle for the hot seat which, I think, is healthy!
Lee SKMA: It's great that we've all got our independent studios to work from, it helps to keep the momentum flowing. We do all try to meet up when possible (usually at mine), to talk over ideas and have a laugh. I think it's important to keep an element of fun in what we do.
Mark SKMA: Usually I can't meet up as regularly, so often I'll send stems, or full projects for the lads to work on if they have ideas. I'm also the big synth nerd of the group so I'll do loads of serum patches and build up sample packs to work from.
You've all performed at many different places, but is there one you always love returning to?
Marx: The Watersplash in our home Jersey! It incapsulates a wonderful mixture of positive vibes and a place to let your hair down and go wild. Im buzzing that DJ Hype mentioned it as one of his favourite clubs to play at in the UK in a Mixmag feature.
Mark SKMA: Same!
Lee SKMA: I'd have to agree with Marx on this one. The Watersplash has given us the opportunity to play alongside some great artists. I always feel inspired to get back in the captain's chair the following day! The only other club that would be on par for me would be the M Club in Southampton (my home town). Sadly, it's no longer running, but the memories I have from that place still put a smile on my face. I had the company of two amazing MCs by the names of Baker and Bensta that always came with the fire!
Mark SKMA: I'd also have to say Splash ha! But since Sam & Lee beat me to it, I'll go for Glade Festival. It's gone now, but it was a fantastic vibes, met so many of our peers & mates there, it was my favourite festival to go to. So to get to play there was one of the first real highlights for me. Big up Jay Cunning for sorting us out!
Sean SKMA: For me it's any outdoor gig in the sunshine, either here in the UK or abroad. Peak summertime mid-afternoon D&B throwdowns are so much fun.
It will be hard to choose just one... but what would be your top old school tune?
Mark SKMA: Ah tough one, have to settle on Bad Company – Bullet Time. I missed the first press of it, and was constantly robbing my mates copy to play. Eventually I paid an eye watering amount for the EP off E-bay.
Sean SKMA: The original mix of Krome & Time - "This Sound Is For The Underground" - will always be a special track for me :)
Marx: Ed Rush & Optical - Wormhole. Honestly, ahead of its era. Simple and effective, so much funk, makes the guys & gals groove.
Lee SKMA: The Ganja Kru - Super Sharp Shooter. I was such a fan (and still am) of anything that came out on True Playaz. Really crafted my scratching skills on this track.
And switching up – which recently released track has been on repeat for unhealthy amount of times?
Marx: Camo & Krooked - Black or White (ft. Tasha Baxter) (Signal Remix). An absolute masterpiece, incredible composition and production. It gives me goosebumps every time I hear it!
Sean SKMA: Bungle - "Cocooned". Absolutely love everything about this track.
Lee SKMA: Magnetude - Snatch. Such a well crafted track! It's got it all… Switch ups, dutty basslines and funk. The use of jazz flute and strings are exceptional!
Mark SKMA: Tantrum Desire – Gravitate. It's been out a fair while now, but you can double drop it with so many tunes, it's not left the pendrive.
What's in store for the future? Any more collabs or are you now going to concentrate more on your own acts?
Marx: We have a few SKMA & Marx projects and some of my own to polish off first. Lee has started a new alias under Contagion who will be teaming up with me for some exciting new collaborations, watch this space!
Lee SKMA: I believe there may well be some collabs in the near future as well as our own material. As Marx mentioned, I'll be working on some side projects with him under my alias Contagion.
Mark SKMA: After the next few collabs, we've got some that had been on the back burner to finish up. We've all been into D&B for years, so we're into all styles really. Got some new Deep/Liquid as well as some more Techy/Dancefloor stuff... Just need to get them all finished!
To wrap this up, feel free to add anything that needs to be out there. Nice talking to you, definitely looking forward to more of your music!
Marx: Just wanted to say a big thank you for all the support from fans and the label family for this opportunity. Also a massive big up to ZeroZero for the link up. I feel really blessed to be able to share our music with like minded lovely people. We have some more music up our sleeves and thus, I am very excited for what the future holds.
Lee SKMA: A massive thanks to our fans for supporting us and everyone at ProgRAM for giving us this amazing platform to share our music with the world! Huge thanks to ZeroZero for their support. Going forward I'd also like to say how hyped I am to be linking up with Baker and Bensta again on future tracks. Can't wait!
Mark SKMA: Thank you to everyone really, it's been great seeing the feedback and messages online from everyone. To add to the above, big up Nightshift on Get Hype, he's a lad and has big bass, and big up to Vanguard promotions. They started D&B locally back in the day and thanks to them we've got a thriving scene to inspire us. Cheers!
Marx
SKMA
---
Share
---
Listen / buy
---
---
---