Logam's RecipesNew bi monthly recipe feature from Logam!
2018-02-14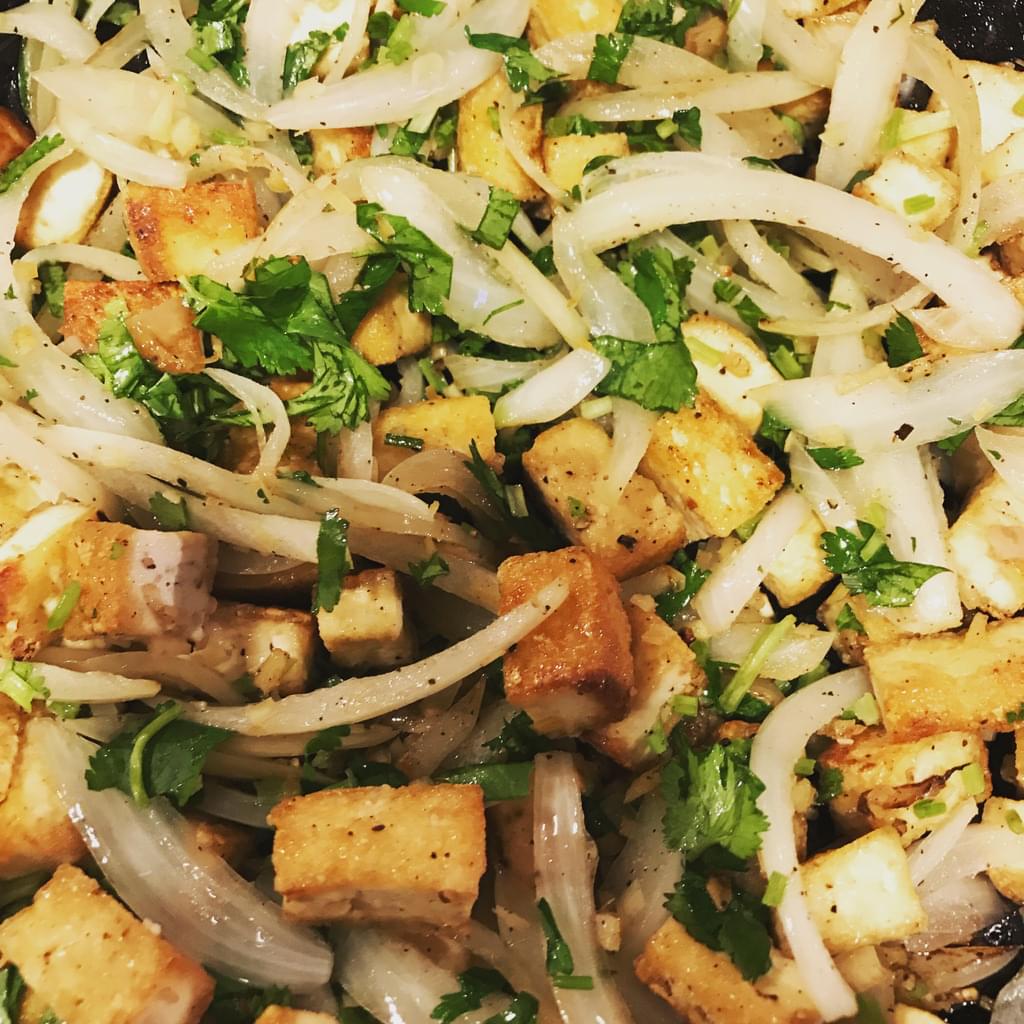 Listen / buy
---
This week we're introducing our brand new cooking series featuring Ram Records token chef Logam, who will be providing you bi monthly with a recipe of his choice, alongside his musical releases as part of US drum & bass act Legion.
Every two months he'll also be providing fans with a live streamed cooking session via the Ram Records Facebook, so keep an eye out for his first takeover this March.
If you want to get involved with some pre-rave lemongrass tofu, check belows segment...
Ingredients
1 pack Firm Tofu
1/2 Yellow Onion
2 or 3 Cloves of Garlic
1 Stalk Lemongrass
1 Small Piece of Fresh Ginger (about as big as your thumb)
Handful of Cilantro (Stems on, finely chopped)
About 4 TBLSP of Peanut Oil
Salt
Black Pepper
White Pepper
1) Drain all water and place Tofu on a folded paper towel on a small plate. Place another small plate on top and a weight of some kind on top of that. I use a large bottle of vinegar or soy sauce but it's whatever works. Can also get vacuum sealed Tofu instead where this step could potentially be omitted as it's not packed with as much water when it comes like that.
2) Once Tofu is drained of most of the water. (Takes about 30 min or so) Cut into small cubes. Maybe 1/2" x 1/2" and place in a bowl. Lightly season with salt, pepper, and white pepper.
3) Heat up wok or pan to high heat. Add Peanut Oil. Toss Tofu in oil and cook until crispy. Takes about 10 min or so. Good to let it sit for a few minutes at a time and then stir or toss around to change which sides are getting browned. Then, once crispy, remove from the pan and set aside in a bowl.
4) Chop Onion length wise into thin strips. Maybe 1/4" thick. Set aside.
5) Smash garlic and mince. Set aside.
6) Peel and slice, mince ginger and set aside.
7) The Lemongrass needs to be minced. For that I run the knife down the length of the stalk several times to kinda cut it into thin strips. Then go back and mince that. Heat up Wok or pan again to med high heat and add another TBLSP or 2 of Peanut Oil.
8) Add Lemongrass, garlic and ginger and cook for 30 sec.
9) Add onions and cook until tender but not mushy.
10) Add Tofu, season with salt, pepper, and black pepper to taste. Add Cilantro and toss.
---
Share
---
Listen / buy
---
---
---