DJ Marky Announced for Ram NYENew acts announced!
2016-11-16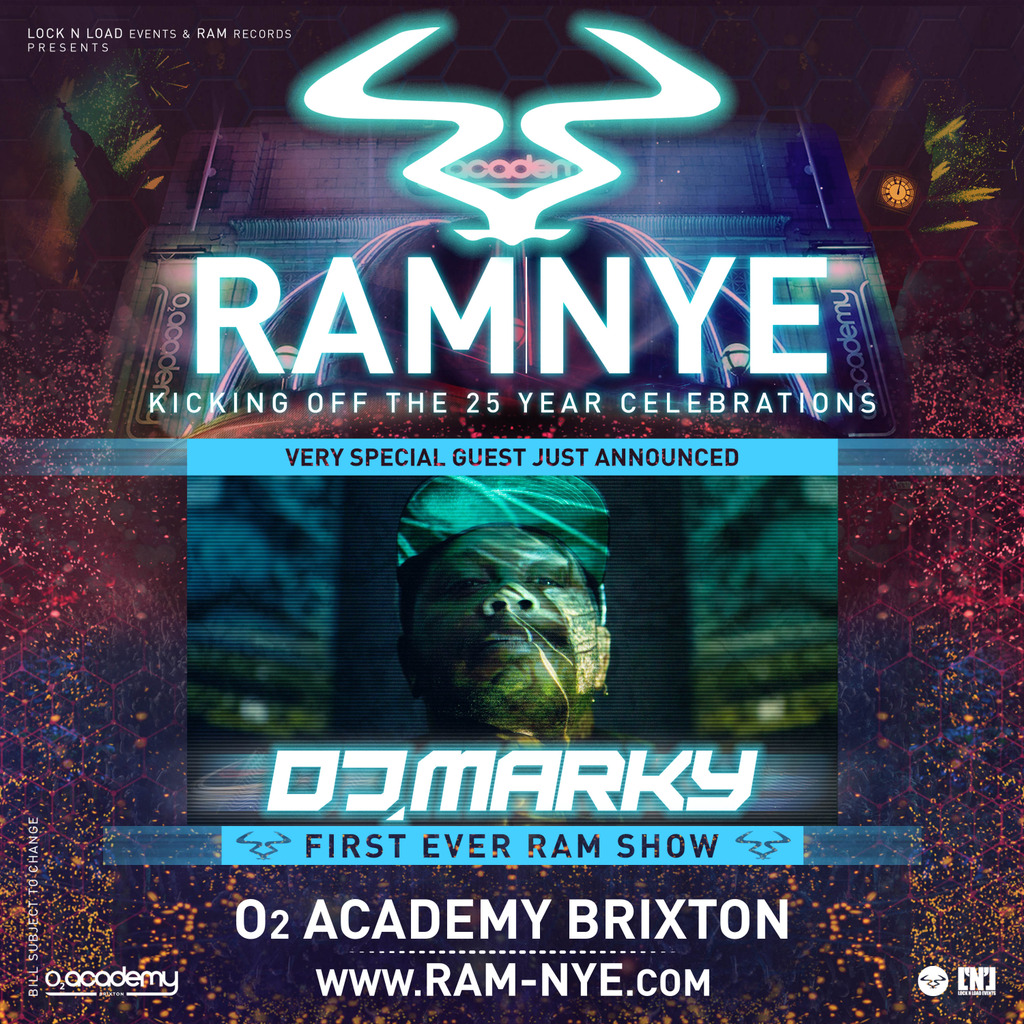 Listen / buy
---
We're pleased to announce that DJ Marky will be joining us for a debut Ram set at this year's Brixton NYE show! Alongside the likes of Sub Focus, Nero, Camo & Krooked, High Contrast, Friction and many more acts from the Ram roster, he'll be a welcome addition to the line-up.
Although only 28, DJ Marky is already a veritable superstar DJ in his homeland Brasil. Based in Sao Paulo, the clubbing and dance music capital of Brasil, Marky is well established as one of Brazil's biggest DJs and producer talents.
DJ Marky began making a name for himself in the early 90's pioneering the sounds of UK Drum & Bass/Jungle, appealing to lovers of dance music of all styles for his sheer artistry on a pair of Technics 1210's.
In 94/95 Jungle became popular in Brasil and DJ Marky emerged as one of Brasil's leading DJs of this new exciting scene.
He stopped working at record shop, Up Dance Records, moving on to a high profile residency at the then legendary Toca club (rammed every week with 5000 clubbers, but now shut). Marky had radio shows on various stations both mainstream and underground, and his success at that time culminated in the mid-90's with a massive drum & bass/jungle compilation released on UK's Suburban Base Records. Marky was awarded DJ of the year in Brasil in 95 and 96 and was runner up in 98.
MTV Brasil immediately gave him a show, which highlighted the strength and reach of the scene he was a pioneer of.
Today, DJ Marky is once again leading Brasil's club and dance music scene. He is currently resident DJ at the Bunker in Rio De Janeiro (Wednesdays) and at the fashionable Lov.e club in Sao Paulo (Thursdays) where he was talent spotted in '98 by UK jungle legend Bryan Gee and Bulldozer. Without hesitation they invited him back to the UK, fulfilling a lifelong dream to play in London (he is now a Movement International Resident (a Thursday weekly club night at Bar Rumba in London).
He created an immediate impression, smashing up the dancefloor at Movement and was instantly invited by Jumping Jack Frost to do a mix on his Kiss 100FM radio show.
He was featured strongly in various dance music magazines and asked to join the V Recordings tour in 99, then given his own Kiss radio show - all this whilst playing all around the UK in his first year abroad.
DJ Marky is undoubtedly one of the most exciting DJs to emerge in the drum & bass world in the last few years. With his phenomenal technical skills and Brazilian flair, his enthusiasm and dedication and the effort he puts into his sets he has impressed clubbers and music industry alike. As V recordings label boss Bryan Gee said of his discovery: DJ Marky is one of the biggest talents I've seen for years!
DJ Marky has definitely become something of a national hero in Brasil, and highly revered in the UK.
In 2000 DJ Marky went national in the UK by presenting the One World show on Radio 1.
He quickly followed this by being nominated as Best New DJ at the Ericsson Muzik awards and was added to 2001s Top 10 DJ List for Ministry magazine alongside such luminaries as Danny Tenaglia, Timo Mass, EZ, and Paul Oakenfold.
In February 2001 DJ Marky won Best International DJ at the Knowledge Magazine Awards in London beating off stiff competition. Shortly after this came The Brasil EP on V Recordings in March 2001 where DJ Marky lined up on vinyl alongside his two Brasilian counterparts, DJ Patife and XRS.
Meanwhile over in Brasil a compilation album Audio Architecture (Trama Records, Brasil) was released, selling over 25,000 copies in it's first month. This was followed by another compilation entitled The Brazilian Job, which went on to sell 30,000 copies globally.
At this time DJ Marky was also granted his own MTV Brasil show and started making waves in radio by gaining his own show on Energia 97FM (www.97fm.com.br) on Saturday nights (19.00 - 21.00 local time), which he still hosts today.
The Brazilian Job was followed by a tour taking in Australia amongst other places.
In 2002, DJ Marky was publicly voted into 52nd place in the prestigious DJ Magazine TOP 100 DJs IN THE WORLD poll. DJ Marky was again nominated at the MUZIK MAGAZINE awards for BEST BREAKTHROUGH DJ as well as appearing in the HOT 100 poll in URB magazine.
DJ Marky has also begun to make a concerted move into production, both by himself and with long-term collaborator, XRS. In fact, it was their very-recent UK Top 20 single LK (produced alongside Stamina MC) which really propelled DJ Marky into the bright lights.
With remixes of US3, Bebel Gilberto and Everything But The Girl and a collaboration with Brazilian legend Gilberto Gil already under his belt, DJ Marky has a busy 2003 in front of him. All this alongside an album (with XRS) being produced in Brazil this summer.
---
Share
---
Listen / buy
---
---
---