Do you want to play at Sundown Festival?You could be in with the chance to play at Sundown Festival!
2015-06-10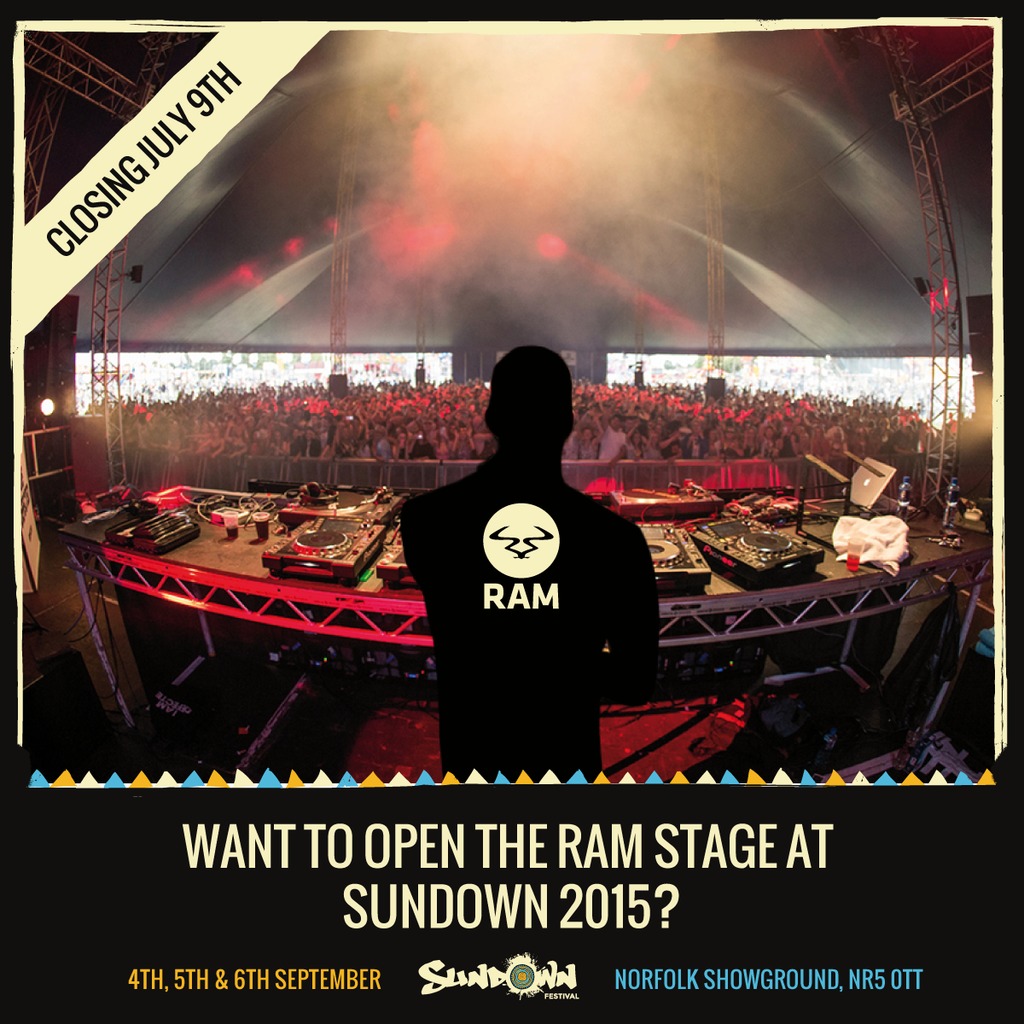 Listen / buy
---
Do you want to play on the same huge bill as Andy C, Sub Focus, Jaguar Skills, Zinc and a ton more drum and bass legends? In association with RAM Records, Sundown are offering you the chance to do just that! Find out how to win the set of a life time as well as RAM Record prizes, exclusive white label vinyl and Sundown VIP tickets using your DJ skills!
To enter the competition:
1. Upload your DJ mix to Mixcloud.com
2. Title the mix "RAM Sundown Comp" followed by your name
3. Download the image attached to display as the image for the mix
4. Once uploaded, share your mix on Facebook, Twitter and other social media channels, tagging both Sundown Festival and RAM in the post (Social Links below)
5. People can vote for your mix by clicking the Favourite button on Mixcloud
6. The Top 10 entries will be judged by RAM to decide on the Top 3
Follow this link:
https://www.mixcloud.com/competitions/ram-sundown-mixcloud-2015-dj-competition/​
Rules:
1. Your mix should be between 30 mins and 60 mins
2. The competition runs from 3rd June – 9th July 2015
3. Judging will take place between 10th July and 24th July
4. The winner will be announced on 31st July
5. Entrants must be 16 years or over
Prizes:
1. Opening set on the RAM stage at Sundown festival. 4 x VIP tickets. RAM merch bundle (see below) and your transport to and from the festival paid for.
2. 2 x VIP Tickets & RAM merch bundle (see below)
3. 2 x Sundown Tickets
RAM Merch bundle:
https://www.ramrecords.com/shop/merchandise/rammtee27
https://www.ramrecords.com/shop/vinyl/ramm184p
https://www.ramrecords.com/shop/merchandise/rammeq01
https://www.ramrecords.com/shop/merchandise/ramslip03
​​​
---
Share
---
Listen / buy
---
---
---