Andy C Presents: Ram Records at SW4Just announced!
2015-04-23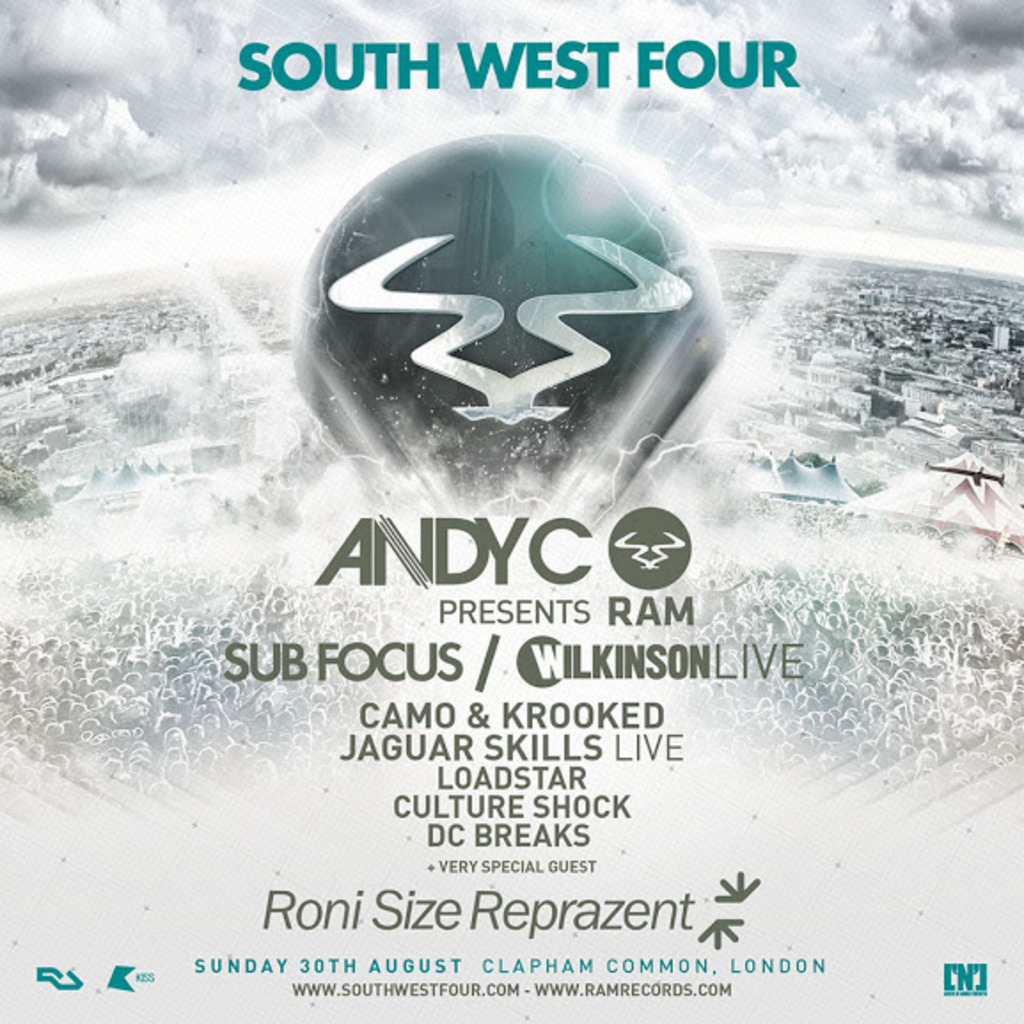 Listen / buy
---
SW4 Saturday, Sunday and Weekend tickets selling fast:
Sunday 30th August represents a landmark date in the world of drum and bass as South West Four welcomes us to their biggest ever UK showcase. We've pioneered the genre since the beginning, and developed many of the genre's greatest artists during our twenty three year history, as well as hosting residencies at the planet's leading clubs. However nothing can prepare you for what we have in store for SW4. Label boss Andy C will spearhead the attack and be joined by some of the finest talent that we have to offer. With Sub Focus, Wilkinson [Live] and Jaguar Skills [Live] already announced, we can reveal the next five additions who will collectively make London's biggest ever drum and bass line up one we'll never forget…
ANDY C PRESENTS:
SUB FOCUS
WILKINSON [LIVE]
LOADSTAR
DC BREAKS
CULTURE SHOCK
CAMO & KROOKED
JAGUAR SKILLS [LIVE]
PLUS VERY SPECIAL GUEST:
RONI SIZE REPRAZENT [LIVE]

"After witnessing the emphatic return of the ground-breaking Roni Size Reprazent [Live] with a string of sold out shows last year, it was time to get our hands on this drum and bass phenomenon and showcase their talents at South West Four. The seven piece band comprising of Roni Size, Dynamite MC, Onallee, Si John, D Product, Jay Wilcox and Yuval Gabay are an act we've deeply loved over the years, so to bring them to Clapham Common is quite simply mission accomplished. They join Andy C and RAM as the stage's very special guests, with a promise to deliver an extraordinary live show that is sure to go down in SW4 history.

Hailing from Vienna, Camo & Krooked are one of the most electrifying duos of today and one that we welcome to South West Four for the very first time. Having championed the scene for over a decade, their infectious sound has spread worldwide resulting in an army of revellers eagerly awaiting their next move. With SW4 now marked on their tour diary, anticipation is already rising. As leading pioneers of drum and bass, their last London visit saw the Austrian duo ignite Brixton Academy on New Years Eve and if that was anything to go by, you'd better hold tight.
​

Made up of Gavin Harris and Nick Hill, formerly and respectively known to the drum and bass world as Xample and Lomax, Loadstar has surpassed the very highest of expectations in recent years. By fusing their individual styles, the duo have created a unique sound that imbues club dance floors and festival arenas alike with incredible energy and impeccable musical precision. Firm favourites within the RAM camp, their addition to the stage is huge. Having just completed an incredible tour of the US and Canada including a standout date at RAM's Miami WMC takeover, the hype for their London return has never been greater.

Dan Havers and Chris Page or better known as DC Breaks have also been hand-picked to be part of this full-blown assault of the senses. Make no mistake about it, when it comes to crafting fierce dance-floor weapons these two are at the top of the class. Signed to RAM in 2010 thanks to their brilliant production skills, the British duo have gone on to release a catalogue of drum and bass debauchery on the label on top of stellar remixes for Tinie Tempah, Loadstar and Example. With their latest offering 'Faithless' ft Bianca receiving unconditional support from Andy C himself, their exclusive summer performance will not disappoint.

Also joining the August Bank Holiday madness is another of RAM's greatest assets. Celebrated as one of the imprint's most talented producers, we are delighted to welcome Culture Shock on Sunday 30th August. Boasting an array of hugely creative drum and bass productions which take influences from the broadest fields of house, techno and beyond, Culture Shock is a force to be reckoned with. This, along with his eclectic DJ sets, make him one of the most exciting acts to emerge from RAM's international melting-pot of talent in recent years and one who's trademark sounds is sure to rattle Clapham Common to its core."
---
Share
---
Listen / buy
---
---
---
Related Artists
---