Just Announced: RAM US & Canadian Tour!We're heading to the US & Canada this March!
2015-02-23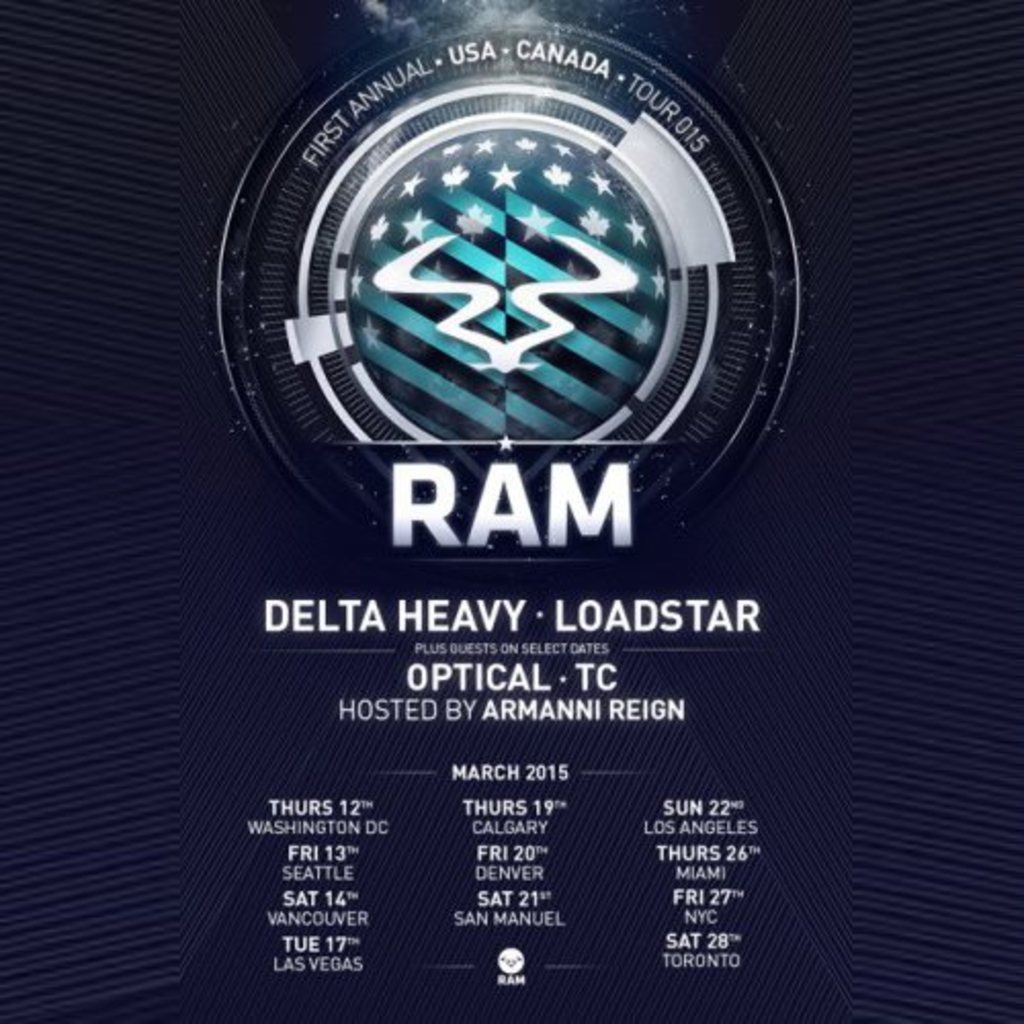 Listen / buy
---
2015 will be the year that we take RAM transatlantic like never before. And having already played at some of the biggest festivals across the US and Canada, it was only a matter of time before RAM brought its acclaimed artist roster across the pond.
From the historical plots of Washington, all the way to the musical-haven of Toronto, we're transporting a host of the most resounding names drum & bass has to offer. With the line-up including label stalwarts Loadstar and Delta Heavy, who've already made their mark globally, there will also be guest appearance from virus-figurehead Optical and pounding bass detonator TC.
Loadstar have made waves at aesthetically and audibly colossal feats such as EDC and Nocturnal Wonderland, whilst pedalling their debut 'Future Perfect' album and the recent creation of the RAMLife compilation series, which they launched in an explosive fashion. And expect Delta Heavy to bring you all the upfront vibes of their 'Down the Rabbit Hole' EP, which pedestalled a signature sound that went on to dominate both the charts and cyberspace.
This is the moment you've been waiting for. We're bringing our up-tempo sound into venues which often don't venture into 170bpm, delivering the most upfront tunes this genre has to offer. It'll be a no-holds barred journey for any drum & bass lover… But it will also be a chance to convert your friends, who will have no choice but to embrace the genre too. We're going to rep one of the UK's biggest sounds across the continent we want you to be part of this historical journey."
Here are the tour dates:
Dates:
Thursday 12th – Washington DC
Friday 13th – Seattle
Saturday 14th – Vancouver
Tuesday 17th – Las Vegas
Thursday 19th – Calgary
Friday 20th – Vancouver
Saturday 21st – San Manuel
Sunday 22nd – Los Angeles
Thursday 26th – Miami
Friday 27th – NYC
Saturday 28th – Toronto
---
Share
---
Listen / buy
---
---
---
Related Artists
---