Full Wilkinson Live Line Up AnnouncedDelta Heavy, Meridian Dan & Logistics join line up
2015-01-26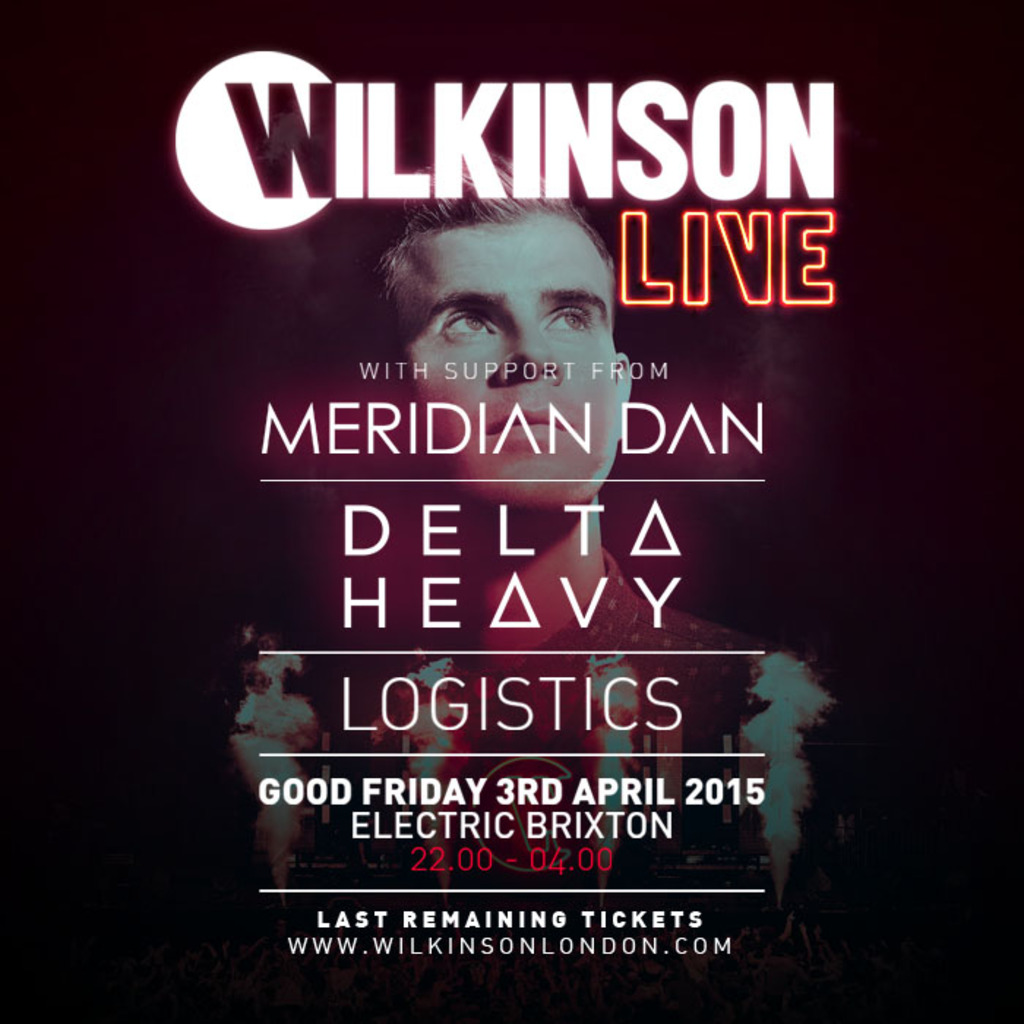 Listen / buy
---
After weeks of suspense we're pumped to reveal the full line up for Wilkinson's live debut at Electric Brixton on Good Friday 3rd April.​
Joining the D&B superstar will be RAM heavyweights and bass fiends Delta Heavy; Hospital records favourite Logistics & very special guest Meridian Dan.​. The demand for this show has been simply phenomenal and this line up announcement will undoubtedly intensify the interest in this historic occasion for Wilkinson.
Tickets are due to increase in price THIS WEDNESDAY (28th January) at midday. This price increase will see the FINAL ALLOCATION of tickets released for this show. So don't wait around, secure your ticket now for this landmark show at the illustrious Electric Brixton
Tickets here: http://www.wilkinsonlondon.com/
MERIDIAN DAN
The past year has seen Meridian Dan grow stronger and stronger with each release. The ever-popular 'German Whip' shot him to stardom and he hasn't looked back since. Appearing on line ups with the likes of Kove, I See Monstas & My Nu Leng to name a few, we're adamant that this fresh talent will feel right at home when he makes an appearance at this live showcase. With his raw and energetic style, be prepared for him to blow the roof off come 3rd April…
DELTA HEAVY
This formidable duo of bass music is surely not for the faint-hearted. Describing themselves as the 'harder & darker' side of D&B has made this pair a firm favourite with fans across the world. This past month has seen the hard working act tour Australia & New Zealand and fulfill the appetite of their fans all the way across the globe. Regulars on any major festival line up; they are true seasoned veterans and will be hitting Electric Brixton with a vengeance come Good Friday to provide banging support for Wilkinson…
LOGISTICS
A consistent and influential contributor to Hospital records, Logistics has amassed a widespread and loyal fan base with his ambitious productions. Both a hit with the U.K and the U.S scene, the month of January will see him perform at 11 different venues to spread his eclectic style to thousands. The summer of 2014 witnesses his album 'Polyphony' receive rave reviews from the D&B community and he is set to showcase this impressive album at Electric Brixton this Easter.
---
Share
---
Listen / buy
---
---
---
Related Artists
---