AUDIO Nil By Mouth - Inking the industry through to the boneWe catch up with AUDIO following his Nil By Mouth EP Release
2014-10-23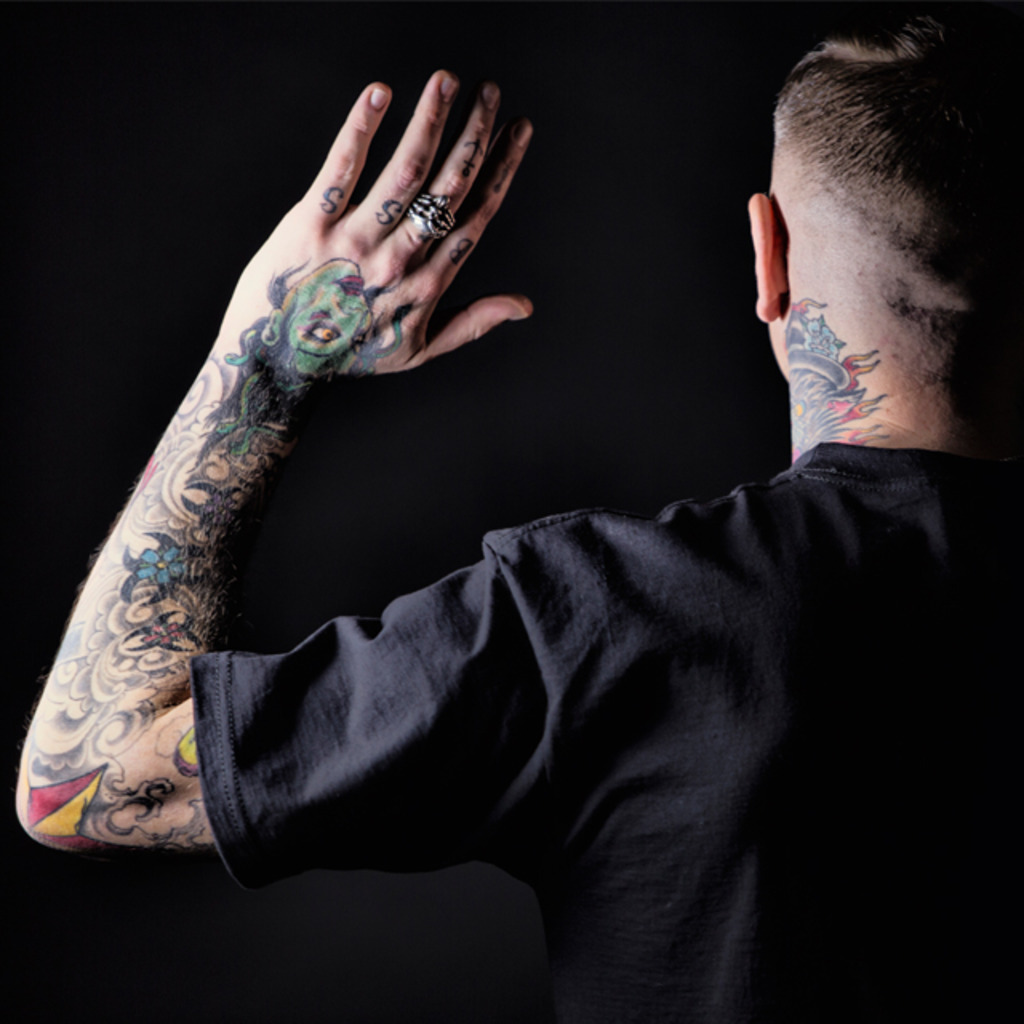 Listen / buy
---
Moving mountains since the release of his 'Nil By Month' EP, Audio is inking the industry through to the bone. Literally and physically. Not only does the indispensable, music brain child have a safari of riffs that blow his producer friends out the water, his tattoos are by all means his next best talking point.
Q: Audio, how is life treating you at the moment? Give us a rundown of what you have been up to in the last 7 days.
A: Life is very good at the moment, the new EP has just dropped and it's been received well which is always great. I have mostly been getting over manflu this week, plus doing interviews to promote the ep, went to RAM in Cardiff last Friday which was sick then went to Brussels for a huge blackout party, and that's about it.

Q: We have noticed that you have lots of tattoos. We like them. What made you get so many? Which one is your favourite and why?
A: Anyone with a tattoo knows once you have one the flood gates are open lol, I just enjoy the whole process about it and I can't see myself slowing down anytime soon in fact I'm booked in next week. As for a favourite it has to be my hands, I still look down at them and get a buzz so yeah hands and throat are definitely my favourites.

Q: Where do you get them designed? Is there a particular tattoo parlour you always head back to, or do you have a favourite tattoo artist?
A: I used to go all over the place until I found Charlie Shazer at Kids Love Ink on brick lane, I met him through Dylan years ago and now he is the only one I go to for work.

Q: Fun one for you: if you could get a tattoo of any of your fellow RAM friends which one would it be and why?
A: Erm... It would have to be all of them done in a family portrait style over the whole of my back because I just can't pick one out of that lovely lot lol.

Q: How has life been since the release of your latest EP? You've been touring loads.
A: Yeah busy busy but tbh the touring doesn't stop for me I'm on the road every weekend and have been for years so it's business as usual in terms of djing. There's obviously a loaf of press to do when you release an EP or LP so I'm in the middle of that now.

Q: Which track is your favourite? Which one was the hardest one to make? All of your tracks scream power, it's a good trait to have.
A: Favourte atm is Break it, last week it was Ultron, but it changes all the time. The hardest track to produce was Gotham just down to the amount of breaks and different bass sounds that are in there, and trying to make them all work together. And yeah power is good, for me dnb is all about power, big drums with tumbling bass is the only way.

Q: What is your plan for the future? What've you got coming up over the next few months?
A: I've started my debut album for RAM, plus I'm working on another monster project which I don't wanna give anything away on yet but it will big…

Words: Laurie Charlesworth
---
Share
---
Listen / buy
---
---
---
Related Artists
---