We're hitting Miami tomorrow night!Who's ready for the Ram Records stage tomorrow?
2015-03-25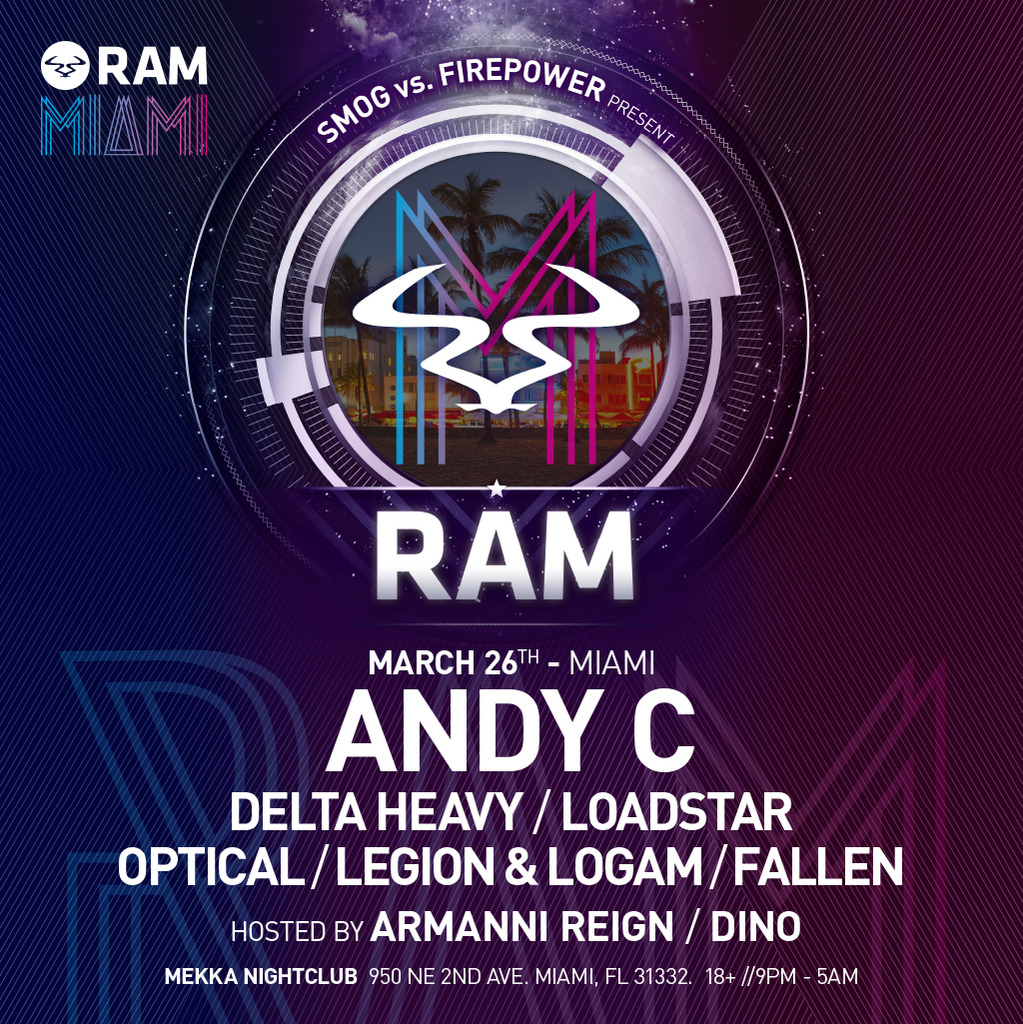 Listen / buy
---
Miami music week is finally upon us – and we're hitting the Smog Vs. Firepower night tomorrow for one of our biggest US line ups to date. With label head Andy C taking to the decks, as well as label stalwarts Delta Heavy and Loadstar, alongside special guests Optical, Legion and Logam, Fallen, Armanni Reign and Dino, prepare yourself for an event like no other.
And why not prepare yourself with our brand new RAMiami compilation, as it's sure to get you fired up for an evening of bass-driven chaos. Featuring 28 brand new cuts from across the genre, as well as the Ram roster, there's no better way to transport you from Hornchurch to the beaches of Miami.
Buy RAMiami: http://po.st/RAMiami2015iT
---
Share
---
Listen / buy
---
---
---
Latest News
---
---
---
---
---
---
---
---
Latest Features
---
---
---
---
---
---
---
---
Related Artists
Andy C
With 40+ awards to date, DJ sets that see him play mainstages from EDC to Global Gathering, and a reputation as the go-to remixer for the li ...
Audio
No other producer packs a punch like Audio. From his tattooed drum & bass knuckles to his ruthlessly hard-hitting productions, Gareth Greena ...
Calyx & Teebee
To drum & bass fans the world over the names Calyx and TeeBee are synonymous with high quality, perfectly sculpted music. Just as Michelange ...
Chords
South London born Chris Ansah aka Chords began his musical journey via classical piano training as a kid. But it was after being shown drum ...
DC Breaks
Drum & Bass duo DC Breaks have made their way onto the widest range of playlists. Their hardcore club cuts have been rewound by the likes of ...
Delta Heavy
Delta Heavy is one of the most exciting duos to hit dance floors across the globe. Over the years, they've steadily conquered the club-lands ...
Hamilton
Celebrating his 20th year in music and having conquered a number of different dance music genres, this talented versatile producer turned hi ...
Loadstar
Some acts resonate with bonafide bass heritage. It's nothing tangible. It's not something you can wear or say. It's certainly not something ...
Mind Vortex
Sometimes all it takes is one tune. One tune and that's it: your life will never be the same again. For schoolmates Laurie Carroll and Stefa ...
Teddy Killerz
---